01-12-2014 | Research | Uitgave 1/2014 Open Access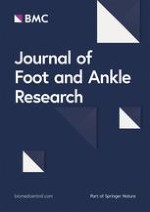 The associations of leg lean mass with foot pain, posture and function in the Framingham foot study
Tijdschrift:
Auteurs:

Robert R McLean, Alyssa B Dufour, Patricia P Katz, Howard J Hillstrom, Thomas J Hagedorn, Marian T Hannan
Belangrijke opmerkingen
Competing interests
The authors declare that they have no competing interests.
Authors' contributions
MTH, HJH conceptualized and designed the study. RRM, TJH conducted literature review. ABD conducted all data analyses. RRM, ABD, PPK, TJH, HJH, MTH interpreted the data. RRM drafted the manuscript. THJ assisted in preparing the Methods section of the text. ABD, PPK, HJH, THJ, MTH critically reviewed the manuscript. All authors have reviewed and approved the final version of the manuscript as submitted.
Abstract
Background
Foot disorders are common in older adults and associated with impaired lower extremity function. Reduced muscle mass may play a role in the etiology of foot disorders and consequent poor function.
Methods
We examined the association of leg lean mass with foot pain, posture and function among 1,795 individuals (mean age 67 years) from the population-based Framingham Foot Study (2002-2008). Pain was assessed via questionnaire, and a pressure mat classified foot posture (arch: high, low, referent) during standing and function (pronation, supination, referent) during gait. Leg lean mass was measured by whole body dual energy x-ray absorptiometry.
Results
In age- and body mass index-adjusted logistic (pain) and multinomial logistic (posture, function) regression models, a 1-standard deviation increase in leg lean mass was associated with lower odds of foot pain (OR = 0.76, 95% CI: 0.68, 0.86) and pronation (OR = 0.76, 95% CI: 0.67, 0.85), and higher odds of supination (OR = 1.17, 95% CI: 1.04, 1.31). Adjustment for sex attenuated these associations. Higher leg lean mass was associated with lower odds of high arch, even after adjustment for sex (OR = 0.73, 95% CI: 0.60, 0.89).
Conclusions
Though not related to foot pain or function, reduced leg lean mass was associated with extreme foot posture in older adults. Loss of muscle mass with aging may thus play a role in the etiology of functional impairment due to foot disorders.