01-10-2007 | Original Paper | Uitgave 8/2007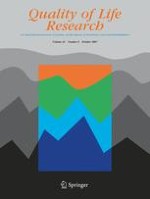 Testing the structural and cross-cultural validity of the KIDSCREEN-27 quality of life questionnaire
Tijdschrift:
Auteurs:

Stephane Robitail, Ulrike Ravens-Sieberer, Marie-Claude Simeoni, Luis Rajmil, Jeanet Bruil, Mick Power, Wolfgang Duer, Bernhard Cloetta, Ladislav Czemy, Joanna Mazur, Agnes Czimbalmos, Yannis Tountas, Curt Hagquist, Jean Kilroe, Pascal Auquier, the KIDSCREEN Group
Belangrijke opmerkingen
Members of the KIDSCREEN group are: Austria: Wolfgang Duer, Kristina Fuerth; Czech Republic: Ladislav Czerny; France: Pascal Auquier, Marie-Claude Simeoni, Stephane Robitail, Germany: Ulrike Ravens-Sieberer (international coordinator in chief), Michael Erhart, Jennifer Nickel, Bärbel-Maria Kurth, Angela Gosch, Ursula von Rüden; Greece: Yannis Tountas, Christina Dimitrakakis; Hungary: Agnes Czimbalmos, Anna Aszman; Ireland: Jean Kilroe, Eimear Flannery; The Netherlands: Jeanet Bruil, Symone Detmar, Eric Veripps; Poland: Joanna Mazur, Ewa Mierzejeswka; Spain: Luis Rajmil, Silvina Berra, Cristian Tebé, Michael Herdman, Jordi Alonso; Sweden: Curt Hagquist; Switzerland: Thomas Abel, Corinna Bisegger, Bernhard Cloetta, Claudia Farley; United Kingdom: Mick Power, Clare Atherton, Katy Phillips.
Abstract
Objectives
The aim of this study is to assess the structural and cross-cultural validity of the KIDSCREEN-27 questionnaire.
Methods
The 27-item version of the KIDSCREEN instrument was derived from a longer 52-item version and was administered to young people aged 8–18 years in 13 European countries in a cross-sectional survey. Structural and cross-cultural validity were tested using multitrait multi-item analysis, exploratory and confirmatory factor analysis, and Rasch analyses. Zumbo's logistic regression method was applied to assess differential item functioning (DIF) across countries. Reliability was assessed using Cronbach's alpha.
Results
Responses were obtained from
n
= 22,827 respondents (response rate 68.9%). For the combined sample from all countries, exploratory factor analysis with procrustean rotations revealed a five-factor structure which explained 56.9% of the variance. Confirmatory factor analysis indicated an acceptable model fit (RMSEA = 0.068, CFI = 0.960). The unidimensionality of all dimensions was confirmed (INFIT: 0.81–1.15). Differential item functioning (DIF) results across the 13 countries showed that 5 items presented uniform DIF whereas 10 displayed non-uniform DIF. Reliability was acceptable (Cronbach's α = 0.78–0.84 for individual dimensions).
Conclusions
There was substantial evidence for the cross-cultural equivalence of the KIDSCREEN-27 across the countries studied and the factor structure was highly replicable in individual countries. Further research is needed to correct scores based on DIF results. The KIDSCREEN-27 is a new short and promising tool for use in clinical and epidemiological studies.