01-06-2016 | Onderzoek | Uitgave 6/2016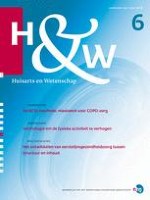 Technologie om de fysieke activiteit te verhogen
Tijdschrift:
Auteurs:

dr. Sanne van der Weegen, dr. Renée Verwey, dr. Marieke Spreeuwenberg, dr. Huibert Tange, prof.dr. Trudy van der Weijden, prof.dr. Luc de Witte
Belangrijke opmerkingen
Maastricht University, CAPHRI School for Public Health and Primary Care, Vakgroep Health Services Research, Postbus 616, 6200 MD Maastricht: dr. S. van der Weegen, gezondheidswetenschapper (thans onderzoeker eHealth bij Vilans, Utrecht). Zuyd Hogeschool, lectoraat Technologie in de Zorg, Heerlen: dr. R. Verwey, verpleegkundige, onderzoeker en senior docent; dr. M.D. Spreeuwenberg, lector Zorg op Afstand; prof.dr. L.P. de Witte, hoogleraar Technologie in de Zorg. CAPHRI, Vakgroep Huisartsgeneeskunde: dr. H. Tange, arts-onderzoeker; prof.dr. T. van der Weijden, hoogleraar Implementatie van richtlijnen in de geneeskunde • Correspondentie: s.vanderweegen@vilans.nl; renee.verwey@zuyd.nl • Mogelijke belangenverstrengeling: het onderzoek werd gefinancierd door ZonMw in het programma Nieuwe Instrumenten voor de Gezondheidszorg. Aanvullende financiering werd ontvangen van Zorgverzekeraar CZ. De bedrijven IDEE Maastricht, Maastricht Instruments en Sananet Care waren betrokken bij de ontwikkeling van de tool. Sananet Care bemande de helpdesk en Maastricht Instruments zorgde ervoor dat deelnemers een nieuwe tool kregen wanneer zich technische problemen voordeden.
Sanne van der Weegen en Renée Verwey zijn beiden eerste auteur. Zij voerden dit onderzoek uit onder auspiciën van CAPHRI School for Public Health and Primary Care en promoveerden op 16 september 2015. Het onderzoek werd eerder gepubliceerd als: Van der Weegen S, Verwey R, Spreeuwenberg M, Tange H, Van der Weijden T, De Witte L. It's LiFe! Mobile and web-based monitoring and feedback tool embedded in primary care increases physical activity: A cluster randomised controlled trial. J Med Internet Res 2015;17:e184. Publicatie gebeurt met toestemming van de uitgever.
Samenvatting
Samenvatting
Van der Weegen S, Verwey R, Spreeuwenberg M, Tange H, Van der Weijden T, De Witte L. Technologie om de fysieke activiteit te verhogen. Huisarts Wet 2016;59(6):248-52.
Achtergrond
Gebrek aan beweging is een gezondheidsprobleem dat vooral veel voorkomt bij patiënten met een chronische ziekte. It's LiFe! is een methode, bestaande uit een elektronisch monitoring- en feedbackinstrument ingebed in een zelfmanagementondersteuningsprogramma, waarmee de POH patiënten met COPD of diabetes type 2 kan stimuleren meer te gaan bewegen. Wij onderzochten of de methode leidt tot meer fysieke activiteit in vergelijking met gebruikelijke zorg, en wat de toegevoegde waarde is van de elektronische tool bovenop het zelfmanagementondersteuningsprogramma.
Methode
In dit clustergerandomiseerde onderzoek deelden wij 24 huisartsenpraktijken willekeurig in in drie (interventie)groepen. Deelnemers waren patiënten van 40-70 jaar met COPD of diabetes type 2 (n = 199). Patiënten van de praktijken in groep 1 (n = 65) kregen de complete interventie inclusief tool; deelnemers in groep 2 kregen alleen het zelfmanagementondersteuningsprogramma; deelnemers in groep 3, de controlearm, kregen de gebruikelijke zorg. Onze primaire uitkomstmaat was het dagelijks aantal minuten matig intensieve fysieke activiteit (≥ 3 MET) bij aanvang, 4-6 maanden na de start en 3 maanden na afloop van de interventie.
Resultaten
Zes maanden na de start bewogen de deelnemers in groep 1 12 minuten meer dan die in groep 3, en 8 minuten meer dan die in groep 2. Drie maanden na afloop van de interventie waren deze verschillen nog respectievelijk 11 en 9 minuten. Alle verschillen waren significant (p < 0,01).
Conclusie
De combinatie van elektronische monitoring en feedback, ingebed in een programma waarbij de POH het zelfmanagement van de patiënt ondersteunt, is effectief voor het bevorderen van fysieke activiteit bij mensen met COPD of diabetes type 2 tussen de 40 en 70 jaar oud. Extra begeleiding door de POH zonder de monitoring- en feedbacktool is niet effectiever dan de gebruikelijke zorg.