01-12-2013 | Uitgave 10/2013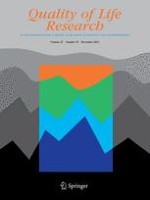 Psychometric evaluation of the National Eye Institute Visual Function Questionnaire and Visual Function Questionnaire Utility Index in patients with non-infectious intermediate and posterior uveitis
Tijdschrift:
Auteurs:

Rupali K. Naik, Katharine S. Gries, Anne M. Rentz, Jonathan W. Kowalski, Dennis A. Revicki
Abstract
Objective
To evaluate the psychometric properties of the National Eye Institute Visual Function Questionnaire-25 (NEI VFQ-25) and Visual Function Questionnaire Utility Index (VFQ-UI) in patients with non-infectious intermediate and posterior uveitis.
Methods
Secondary analysis of pooled data from a 26-week, multicenter, masked, randomized, sham-controlled Phase 3 clinical trial. Health-related quality of life was assessed using the NEI VFQ-25, the EQ-5D, and SF-36. Internal consistency reliability, reproducibility, convergent validity, and known groups of BCVA and vitreous haze severity were assessed. Clinically significant difference was assessed using anchor-based and distribution-based methods.
Results
The study included 224 subjects with non-infectious intermediate (80.4 %) or posterior uveitis (19.6 %). The NEI VFQ-25 and the VFQ-UI demonstrated good internal consistency (Cronbach's alpha 0.87–0.94) and test–retest reliability (ICCs 0.58–0.88). Spearman's product–moment rank correlations between the NEI VFQ-25 and VFQ-UI scores and the SF-6D, EQ-5D, and BCVA ranged from small to moderate. There was a significant association between visual functioning and known groups of visual acuity (
p
< 0.05). Clinical significance, using the anchor-based method (difference between visual acuity groups ≥10–<15 letter better and no change), was 10.2 for change from baseline to week 26 for the NEI VFQ-25 composite score and 0.05 for the VFQ-UI. Using the distribution-based method, the clinical significance was 3.86 for the composite score and 0.04 for the VFQ-UI.
Conclusion
The NEI VFQ-25 and the VFQ-UI are reliable and valid measures of vision-related functioning and preference-based status in patients with non-infectious intermediate and posterior uveitis.