13-09-2021 | REVIEW | Uitgave 12/2021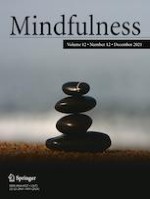 Psychobiological Mechanisms Underlying the Mental Health Benefits of Yoga-Based Interventions: a Narrative Review
Tijdschrift:
Auteurs:

Michaela C. Pascoe, Michael J. de Manincor, Mats Hallgren, Peter A. Baldwin, Jana Tseberja, Alexandra G. Parker
Belangrijke opmerkingen
Publisher's Note
Springer Nature remains neutral with regard to jurisdictional claims in published maps and institutional affiliations.
Abstract
Objectives
A comprehensive understanding of the mechanisms of action is important if yoga-based interventions are to be used in the prevention and/or treatment of mental health symptoms. We, therefore, aimed to examine the evidence base and mechanisms underlying the benefits of yoga-based interventions on mental health, with a focus on psychological, physiological and neurobiological mechanisms.
Methods
A narrative review was conducted of scoping reviews, systematic reviews and meta-analysis of yoga-based interventions with a focus on psychological, physiological and neurobiological mechanisms linking yoga-based interventions with mental health. A single author conducted a search of the literature using a number of databases (PubMed, Web of Science, Scopus, Google Scholar). Search terms included but were not limited to "yoga*", "asana*," "psych*", "neuro*", "stress", "autonomic", "mental illness", "mental health", "cytokine" and "endocrine".
Results
A total of 22 studies were included in this narrative review. These studies report that yoga-based interventions decrease stress reactivity, influence physiological markers of stress reactivity including changes in blood pressure, heart rate, cortisol or cytokine levels, resulting in overall improved health and well-being, in diverse populations of adults. Yoga-based interventions influence psychological processes involved in the regulation of mood and emotion, including self-compassion, dispositional mindfulness, rumination, meta-cognition, attention and memory. Finally, yoga-based interventions result in structural and functional changes in several brain regions.
Conclusions
Yoga-based interventions impact multiple processes of mental health; however, further research should explore the potential interaction between these processes as it is possible that effects may be synergistic rather than in silos.