01-12-2017 | Research | Uitgave 1/2017 Open Access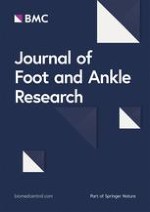 Prevalence, impact and care of foot problems in people with rheumatoid arthritis: results from a United Kingdom based cross-sectional survey
Tijdschrift:
Auteurs:

Oonagh Wilson, Sarah Hewlett, James Woodburn, Jon Pollock, John Kirwan
Belangrijke opmerkingen
Electronic supplementary material
Abstract
Background
Foot symptoms in rheumatoid arthritis (RA) derive from a combination of inflammation, altered foot mechanics, deformity and secondary skin lesions. Guidelines recommend regular review of patients' feet, but the extent to which the general population of RA patients report foot symptoms and access foot care has not been established. The aims of this study were to determine the prevalence, impact and care of foot problems in all patients with RA in one geographical area and identify factors associated with accessing foot care.
Methods
Cross-sectional survey of a random sample of patients with RA, who resided within a single community-based National Health Service (NHS) podiatry service. The questionnaire collected demographic data (age, gender, local deprivation score), clinical data (disease duration, arthritis medications, disability (Health Assessment Questionnaire (HAQ)), current foot problems, foot care accessed (podiatry, orthotics and/or orthopaedics) and care received, measures of impact (Foot Impact Scale) and ability to work.
Results
Of 1003 total eligible patients in the target population, 739 were posted survey packs. Of these 413 (56%) replied. Responders and non-responders had similar age (63.5 yr. vs.61.5 yr), gender (74.1%F vs. 75.2%F), and highest deprivation category (13.3% vs.15.9%). Of the responders 92.1% reported current foot problems: articular 73.8%, cutaneous lesions 65.4%, structural 57.6%, extra-articular 42.6%. Responders' median (IQR) disease duration 10 (5–20) years, HAQ 1.5 (0.75–2.0), FIS
IF
10 (6–14) and FIS
AP
16 (7–23) and 37.8% reported impacts on work. While 69.5% had accessed foot care there were differences in the route of access (by gender and whether independent or NHS provision) and were older (64.9 yr. vs 60.4 yr.
p
 = 0.001), had longer disease duration (12 yr. vs 7 yr.
p
 < 0.001) and had a greater proportion of females (72.2% vs 61.7%
p
 = 0.04) than those who had not accessed care.
Conclusions
Current foot problems were reported by 92.1% of the study sample and substantially impacted on life and work. While overall access to foot care was higher than anticipated, routes of access differed and extent of current problems suggests the provision of effective, timely and targeted care is a pressing need.