03-09-2018 | Original Article | Uitgave 11/2018 Open Access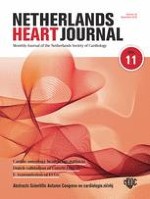 Persistent foramen ovale closure in divers with a history of decompression sickness
Tijdschrift:
Auteurs:

R. Koopsen, P. R. Stella, K. M. Thijs, R. Rienks
Abstract
Objective
To study the effect of percutaneous patent foramen ovale (PFO) closure in divers with a history of decompression sickness (DCS).
Study design
(1) Retrospective study of patient records and (2) telephonic follow-up. Patients with unexplained decompression sickness, who were referred to a cardiologist with a focus on diving medicine between 2000 and 2017, were included in the study
Results
A total of 62 divers with DCS were included. In all cases transoesophageal echocardiography (TEE) was performed, showing 29 PFOs and 6 atrial septum defects (ASDs) in total
n
 = 35 (56%). The highest prevalence was found in divers with cutaneous and vestibular DCS. At follow-up (mean follow-up duration 6.8 years), 21 PFOs/ASDs were closed using a percutaneous procedure. One diver was lost to follow-up. One diver quit diving. The remaining divers were able to resume unrestricted diving; there was no recurrence of major DCS. Of the divers with an open PFO or ASD, 14 were included of whom 7 are currently diving. All (except one diver with a small PFO) divers are using a conservative diving profile to reduce nitrogen load and the appearance of venous nitrogen bubbles. There was no recurrence of major DCS in this group.
Conclusion
Percutaneous PFO closure may be an effective and safe treatment for divers who have suffered a major DCS to return to unrestricted diving. Alternatively, conservative treatment seems safe when divers refrain from unrestricted diving and use a conservative technique in order to reduce nitrogen load.