01-09-2015 | Beschouwing | Uitgave 9/2015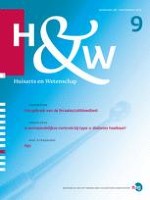 Op weg naar een ideale uitleg
Tijdschrift:
Auteurs:

dr. Christopher Burton, dr. Peter Lucassen, dr. Aase Aamland, dr. Tim olde Hartman
Belangrijke opmerkingen
University of Aberdeen, Division of Applied Health Sciences, Polwarth Building, Foresterhill, Aberdeen AB25 2ZD, VK: dr. C. Burton, huisarts. Radboudumc, Department of Primary & Community Care, Nijmegen: dr. P.L. Lucassen, huisarts. Research Unit for General Practice, Unit Health, Bergen, Noorwegen: dr. A. Aamland, huisarts. Radboudumc, afdeling Huisartsgeneeskunde, Nijmegen: dr. T.C. olde Hartman, huisarts-onderzoeker · Correspondentie: tim.oldehartman@radboudumc.nl · Mogelijke belangenverstrengeling: niets aangegeven.
Dit onderzoek werd eerder gepubliceerd als: Burton C, Lucassen P, Aamland A, Olde Hartman T, Explaining symptoms after negative tests: towards a rational explanation. J R Soc Med. 2015;108(3): 84-8. Publicatie gebeurt met toestemming van de uitgever.
Samenvatting
Burton C, Lucassen PL, Aamland A, olde Hartman TC. Op weg naar een ideale uitleg. Huisarts Wet 2015;58(9):468-70.
Het uitleggen van aanhoudende klachten zonder dat er sprake is van onderliggende ziekte (somatisch onvoldoende verklaarde lichamelijke klachten, SOLK) is niet eenvoudig. Een goede uitleg is echter wel noodzakelijk om patiënten gerust te kunnen stellen. Huisartsen kunnen SOLK op verschillende manieren uitleggen, bijvoorbeeld door te normaliseren. Daarbij leggen ze uit dat de klachten niet afwijken van wat je normaal zou mogen verwachten. Zo'n uitleg is alleen effectief wanneer deze gepaard gaat met een voor de patiënt plausibele en niet-beschuldigende uitleg. Bij een biomedische uitleg staan de verschillende fysiologische mechanismen van de klachten centraal. Patiënten ervaren een psychosomatische uitleg (het betrekken van emotionele achtergronden bij de uitleg van klachten) vaak als bedreigend. Een biopsychosociale uitleg benadrukt de cognitief gedragsmatige factoren die de klachten in stand houden. Omdat patiënten willen begrijpen wat er aan de hand is, heeft het weinig zin om uit te leggen dat ze moeten accepteren dat sommige klachten nu eenmaal niet te verklaren zijn. Een goede uitleg van SOLK 1) is geloofwaardig voor zowel huisarts als patiënt, 2) legt niet de schuld bij de patiënt, 3) bevordert de therapeutische relatie, 4) is beschrijvend van aard, 5) is gericht op de oorzaak en 6) bevordert het gesprek tussen dokter en patiënt. Deze elementen kunnen als hulpmiddel dienen om samen met patiënten een betekenisvolle uitleg te formuleren.