2014 | OriginalPaper | Hoofdstuk
13. Nerve Injury During Endodontic Surgical Procedures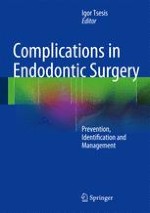 eerste hoofdstuk lezen
Auteur: DMD Eyal Rosen
Uitgeverij: Springer Berlin Heidelberg
Abstract
Nerve injuries with altered sensations following endodontic surgical procedures represent a rare but serious complication, and the classification of those injuries is based on their time course and on the potential sensory recovery following the injury.
Direct trauma to the nerve bundle during surgery is the most frequent cause of nerve injury and may lead to long-term disability and to significant negative effects on the patient's quality of life.
Active preventive measures and a timely mannered clinical approach when a nerve injury is suspected are the most efficient measures to minimize the risk for nerve injuries during surgical procedures as well as to prevent permanent damage and enable better clinical and medicolegal outcomes when such injuries do occur.
This chapter is aimed to provide the practitioner with both knowledge and practical tools to prevent and to manage a nerve injury when performing endodontic surgical procedures, thus to enable a safer procedure and a more predictable clinical outcome.