01-08-2013 | Original Article | Uitgave 4/2013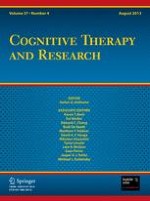 Maternal Anxiety, Overprotection and Anxious Personality as Risk Factors for Eating Disorder: A Sister Pair Study
Tijdschrift:
Auteurs:

E. Taborelli, I. Krug, A. Karwautz, G. Wagner, M. Haidvogl, F. Fernandez-Aranda, R. Castro, S. Jiménez-Murcia, M. Anderluh, D. Collier, J. L. Treasure, N. Micali
Belangrijke opmerkingen
This work is produced by Dr. Nadia Micali under the terms of a Clinician Scientist Award issued by the NIHR. The views and opinions expressed in this publication are those of the authors and do not necessarily reflect those of the National Health Service (NHS), NIHR or the DH.
Abstract
Using a sister-pair design, we aimed to investigate the role of maternal anxiety in pregnancy and parental overprotection as risk factors for anorexia nervosa (AN) and bulimia nervosa (BN). We were also interested in investigating anxious personality traits in patients with AN and BN compared to their healthy sisters, and their possible association to overprotection. One-hundred-and-fifty-seven females (AN = 94; BN = 63) and their healthy sisters from four European centres were recruited. Data on temperament and childhood characteristics were obtained from cases and their sisters using the Temperament and Character Interview Revised (TCI-R) and the Oxford Risk Factor Interview (ORFI); maternal anxiety and overprotection were obtained from retrospective parental report. Both AN and BN women displayed significantly higher levels of separation anxiety in childhood in comparison to their sisters, but only women with AN showed anxious temperamental traits. Mothers of women with AN reported higher levels of anxiety during the index pregnancy (
p
< .01), compared to when pregnant with the healthy daughter. The age in months at which women with AN were first left with another adult for a night was also higher compared to their sisters (respectively medians: 12 (range 1–120), 9 (range 1–96),
p
< .05). This was not the case for women with BN. Maternal overprotection was not associated with index daughter temperament. This finding is suggestive of an association between AN and maternal stress and anxiety in utero and later overprotective care, whilst BN was not associated with maternal anxiety or overprotection.