06-10-2015 | Review | Uitgave 3/2017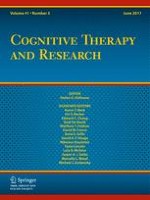 Integrating Positive and Clinical Psychology: Viewing Human Functioning as Continua from Positive to Negative Can Benefit Clinical Assessment, Interventions and Understandings of Resilience
Tijdschrift:
Auteurs:

Judith Johnson, Alex M. Wood
Abstract
In this review we argue in favour of further integration between the disciplines of positive and clinical psychology. We argue that most of the constructs studied by both positive and clinical psychology exist on continua ranging from positive to negative (e.g., gratitude to ingratitude, anxiety to calmness) and so it is meaningless to speak of one or other field studying the "positive" or the "negative". However, we highlight historical and cultural factors which have led positive and clinical psychologies to focus on
different
constructs; thus the difference between the fields is more due to the constructs of study rather than their being inherently "positive" or "negative". We argue that there is much benefit to clinical psychology of considering positive psychology constructs because; (a) constructs studied by positive psychology researchers can independently predict wellbeing when accounting for traditional clinical factors, both cross-sectionally and prospectively, (2) the constructs studied by positive psychologists can interact with risk factors to predict outcomes, thereby conferring resilience, (3) interventions that aim to increase movement towards the positive pole of well-being can be used encourage movement away from the negative pole, either in isolation or alongside traditional clinical interventions, and (4) research from positive psychology can support clinical psychology as it seeks to adapt therapies developed in Western nations to other cultures.