2014 | OriginalPaper | Hoofdstuk
8. Het beweeggedrag van patiënten met chronische lagerugklachten: een andere behandeling voor persisterende versus vermijdende patiënten?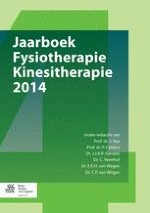 eerste hoofdstuk lezen
Auteurs: Ivan Huijnen, Jeanine Verbunt, Rob Smeets
Uitgeverij: Bohn Stafleu van Loghum
Inleiding
Chronische lagerugklachten is een veelvoorkomend probleem in de fysiotherapiepraktijk. Uit cijfers van het Nederlands instituut voor onderzoek van de gezondheidszorg (Nivel) blijkt dat lagerugpijn zonder uitstraling (circa 12%) en rugsymptomen of -klachten (circa 8%) beide afzonderlijk in de top drie staan van de meest voorkomende verwijsdiagnosen of klachten in de fysiotherapiepraktijk (LiPZ, 2012). Dat betekent dat één op de vijf patiënten in de fysiotherapiepraktijk problemen heeft met zijn rug. Patiënten met chronische lagerugklachten ondervinden niet zelden dusdanige beperkingen dat zij niet meer kunnen werken en een depressieve stemming krijgen. Aangezien niet voor alle patiënten een effectieve behandeling voorhanden is, blijft een grote groep patiënten op zoek naar een goede behandeling. Daardoor leiden deze klachten tot hoge maatschappelijke en sociale kosten.