01-08-2010 | Uitgave 6/2010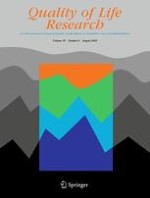 Health-related quality of life and disability in patients with rheumatoid, early rheumatoid and early psoriatic arthritis treated with etanercept
Tijdschrift:
Auteurs:

Andrea Picchianti-Diamanti, Valentina Germano, Claudia Ferlito, Alberto Migliore, Raffaele D'Amelio, Bruno Laganà
Belangrijke opmerkingen
The authors Andrea Picchianti Diamanti and Valentina Germano contributed equally to this work.
Abstract
Purpose
To assess health-related quality of life (HR-QoL) in patients with Rheumatoid arthritis (RA), early RA and early psoriatic arthritis (PsA), and to evaluate the efficacy of etanercept in reducing disability.
Methods
Twenty healthy volunteers, 40 RA, 20 early RA and 20 early PsA patients were recruited. All patients received etanercept plus methotrexate. Assessments at baseline and after 2 years' therapy included Disease Activity Scores on 44 joints [DAS44], Health Assessment Questionnaire (HAQ) scores and Short Form-36 (SF-36) scores.
Results
HAQ and SF-36 scores were significantly worse in patients with RA, early RA or early PsA than in healthy volunteers. The HAQ score at baseline was significantly higher in RA patients than in patients with early RA or early PsA, whereas the scores were similar in patients with early RA and early PsA. Patients with early RA had greater impairment than patients with early PsA in several areas of disability. After 2 years' treatment, HAQ scores and SF-36 summary and subscale scores improved significantly in the three patient groups.
Conclusions
This study suggests that early PsA is a less disabling disease than RA or early RA. It confirms the efficacy of etanercept in reducing disease severity and improving HR-QoL and suggests that early therapeutic intervention may lead to greater improvement in the mental and emotional components of these diseases.