2014 | OriginalPaper | Hoofdstuk
22. Gingivarecessies en hun behandeling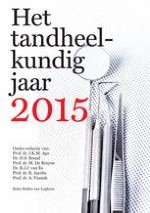 eerste hoofdstuk lezen
Auteur: H. Kuit
Uitgeverij: Bohn Stafleu van Loghum
Samenvatting
De definitie van een gingivarecessie luidt:
'de verplaatsing van de marginale gingivarand in apicale richting ten opzichte van de glazuur-cementgrens, waarbij het worteloppervlak bloot komt te liggen'
.
Voor een antwoord op de vraag of een gingivarecessie bedekt kan worden, is het belangrijk inzicht te hebben in enkele aspecten, zoals het ontstaan van een gingivarecessie en de indicaties voor een behandeling ervan. Voorts is het van belang te kunnen beoordelen om wat voor type gingivarecessie het gaat.
Gingivarecessies kunnen worden veroorzaakt door trauma, bacteriële plaque of een combinatie van deze twee factoren. Predisponerende factoren zijn: malpositie, wortelprominentie en dunne gingiva fenotype.
Per gingivarecessie zal beoordeeld moeten worden of er een indicatie voor behandeling aanwezig is.
Er zijn meerdere chirurgische technieken beschreven om gingivarecessies te behandelen.
Als conclusie kan men stellen dat gingivarecessies bij een juiste indicatie goed behandelbaar zijn. Innovatieve, minimaal invasieve chirurgische technieken treden steeds meer op de voorgrond.