01-11-2015 | Nascholing | Uitgave 11/2015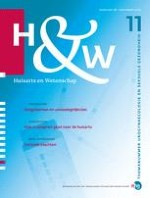 Functie en disfunctie van de bekkenbodem
Tijdschrift:
Auteur:

Mariëlla Withagen
Belangrijke opmerkingen
UMC Utrecht, Divisie Vrouw en Baby, Voortplanting en Gynaecologie, Postbus 85500, 3508 GA Utrecht: dr. M.I.J. Withagen, urogynaecoloog (tevens Bergman Clinics|Vrouwenzorg Bilthoven)
Correspondentie: m.i.j.withagen@umcutrecht.nl • Mogelijke belangenverstrengeling: Auteur ontving financiële vergoeding van Astellas voor het geven van een nascholing 'Bekkenbodemproblematiek'. Daarnaast ontving zij subsidie van de firma Johnson & Johnson voor onderzoek naar recidieve en primaire prolaps (2010).
Samenvatting
Withagen MIJ. Functie en disfunctie van de bekkenbodem. Huisarts Wet 2015;58(11):600-3.
Bekkenproblemen komen frequent voor. De bekkenbodem bestaat uit een groep spieren en ligamenten die samen het benige bekken afsluiten. Een normaal functionerende bekkenbodem moet steun geven aan de bekkenorganen en extra kunnen aanspannen om continent te blijven, maar ook op het juiste moment kunnen ontspannen om te urineren, defeceren, coïteren of baren. Als de bekkenbodem onderactief is en te weinig steun geeft, kan dat leiden tot incontinentie voor urine of ontlasting, en tot verzakking van uterus, blaas en rectum, Anderzijds kan een te sterk aangespannen, overactieve bekkenbodem leiden tot dyspareunie, obstipatie, klachten van een overactieve blaas, recidiverende urineweginfecties en chronische buik- en bekkenpijn. Vaak heeft een patiënt klachten tegelijk, maar staat er één op de voorgrond. Daarom is het zaak ook andere, soms zeer verschillende klachten uit te vragen en de samenhang duidelijk in beeld te brengen. Bekkenfysiotherapie kan een belangrijke bijdrage leveren aan de behandeling.