23-06-2018 | ORIGINAL PAPER | Uitgave 2/2019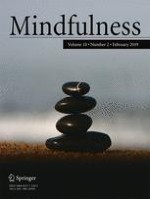 Feasibility and Efficacy of an Adapted Mindfulness-Based Intervention (MBI) in Areas of Socioeconomic Deprivation (SED)
Tijdschrift:
Auteurs:

Karma Jiga, Rebekah Jane Kaunhoven, Dusana Dorjee
Abstract
Prolonged exposure to 'toxic stress' caused by financial hardship and social exclusion can result in reduced well-being, increased risk of illness and impaired cognitive function and can negatively impact the physiological processes underlying ageing. Evidence suggests that mindfulness-based interventions (MBIs) may reduce stress and improve well-being in clinical and non-clinical populations, and recent studies indicate they may also help address well-being-related effects of poverty. This study aimed to evaluate the feasibility of delivering an adapted MBI training to adults living with the psychosocial stress caused by poverty and its effectiveness in improving participants' well-being. In this mixed method, non-randomised waitlist-controlled feasibility pilot study, 40 adults (
n
 = 20 in the training group) from regeneration areas in Scotland earning less than the Living Wage completed the adapted MBI. Delivery proved feasible, even though, as with previous studies on psychosocial interventions in socioeconomically deprived (SED) areas, the rate of participant attrition from recruitment (
n
 = 107) to completion (
n
 = 40) was high (58%). The results showed significant increases in well-being post training for the training group only (
p
 < 0.001). No changes in mindfulness were found in either group. Further qualitative analyses suggested a possible shift in participants' conceptualisation of well-being from being difficult to manageable or workable. These results indicate that MBI training can be feasibly delivered within SED communities and potentially improve the well-being of course participants. The practicalities of developing accessible MBIs for those living in areas of multiple deprivation are discussed.