Gepubliceerd in: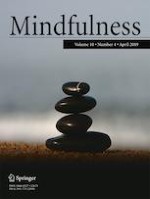 16-10-2018 | ORIGINAL PAPER
Exploring the Benefits of Mindfulness Training in Healthy Community-Dwelling Older Adults: a Randomized Controlled Study Using a Mixed Methods Approach
Gepubliceerd in: Mindfulness | Uitgave 4/2019
Log in om toegang te krijgen
Abstract
The current randomized controlled study employed a mixed methods approach to better elucidate the benefits of mindfulness meditation for stress management among healthy older adults. Ninety-six older adults were randomly assigned to either a mindfulness-based intervention (MBI,
n
 = 57) or a reading and relaxation program (RRP,
n
 = 39). Participants completed the stress profile pre- and post-intervention and a series of open-ended questions post-intervention for qualitative analysis. Results suggest that both groups displayed improvements from baseline for perceived hassles, global health habits, and psychological wellbeing. Between-groups differences at post-intervention were only found for threat minimization, with the MBI group displaying a relative increase in this coping strategy relative to the RRP group. Results were not moderated by baseline perceived stress. Qualitative benefits and challenges of each program were identified. Current findings contribute to the scarce literature examining mindfulness in older adults and suggest that employing a mixed -methods approach can help to more accurately evaluate the benefits of mindfulness training in this population.