01-06-2011 | Empirical Research | Uitgave 6/2011 Open Access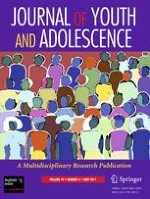 Ethnic Label Use in Adolescents from Traditional and Non-Traditional Immigrant Communities
Tijdschrift:
Auteurs:

Lisa Kiang, Krista M. Perreira, Andrew J. Fuligni
Abstract
Understanding adolescents' use of ethnic labels is a key developmental issue, particularly given the practical significance of identity and self-definition in adolescents' lives. Ethnic labeling was examined among adolescents in the traditional immigrant receiving area of Los Angeles (Asian
n
= 258, Latino
n
= 279) and the non-traditional immigrant receiving area of North Carolina (Asian
n
= 165, Latino
n
= 239). Logistic regressions showed that adolescents from different geographic settings use different ethnic labels, with youth from NC preferring heritage and panethnic labels and youth from LA preferring hyphenated American labels. Second generation youth were more likely than first generation youth to use hyphenated American labels, and less likely to use heritage or panethnic labels. Greater ethnic centrality increased the odds of heritage label use, and greater English proficiency increased the odds of heritage-American label use. These associations significantly mediated the initial effects of setting. Further results examine ethnic differences as well as links between labels and self-esteem. The discussion highlights implications of ethnic labeling and context.