01-09-2020 | Congresverslag | bijlage 2/2020 Open Access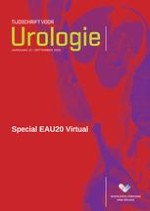 Endo-urologie en stenen
Tijdschrift:
Auteurs:

Robert J.A. Oomen, A.C. (Carolien) Bouma-Houwert
Belangrijke opmerkingen
drs. Robert J. A. Oomen
aios urologie
drs. A. Carolien Bouma-Houwer
uroloog, androloog
Introductie
Hoewel het congres in Amsterdam dit jaar geen doorgang heeft gevonden, is er toch een hoop te vertellen over de urologie. Dat blijkt uit het uitgebreide programma dat geheel virtueel werd gepresenteerd dit jaar. 'Hot Shots' uit alle vakgebieden schoven aan om iedereen bij te praten over hun passie. Het merendeel van de praatjes betrof oncologische onderwerpen, maar er is zeker ook het een en ander te melden op het gebied van stenen en endo-urologie
Voorspellen
Niet alleen in de oncologie doen nomogrammen het goed. Er zijn meerdere onderzoeken naar voorspellende factoren bij urolithiasis. In de MIMIC-studie
(Multi-centre Cohort Study Evaluating the role of Inflammatory Markers in Patient's Presenting with Acute Ureteric Colic),
door een Britse groep jonge urologen (BUST-groep), werden in een multicenterstudie met een cohort van ruim 4.000 patiënten, factoren geëxtraheerd die spontane steenpassage kunnen voorspellen [1]. De belangrijkste parameters zijn steengrootte, positie en neutrofiele granulocyten. Het ontwikkelde nomogram is intern en extern gevalideerd en de groep is een app aan het ontwikkelen. Bij een steenbehandeling kan het handig zijn om iets van de samenstelling van de steen te weten. Met Dual-Energy CT is goed onderscheid te maken tussen vier veelvoorkomende steentypen [2]. Ook is op basis van CT goed te voorspellen of de steen geïmpacteerd is, met name door hydronefrose, maar ook door de HU-waarden boven en onder de steen te meten [3]. Door een 3D-reconstructie van de CT te maken, kun je in virtual reality door de nier navigeren. Dit is te gebruiken om patiënten uitleg te geven [4], maar kan ook gebruikt worden om een goede berekening van de infundibulopelvische hoek te maken, anders dan met de eerder beschreven methoden [5]. Met (gratis!) 3D-software is het mogelijk om beelden uit PACS te importeren, en te berekenen hoe lang de lasertijd is per type laser en per instelling van de laser [6].
Als we dan overgaan tot behandelen, is het handig om te weten of de geplande ureterorenoscopie (URS) makkelijk of moeilijk uitvoerbaar is. Het ScorDiS-nomogram helpt hierbij en is gebaseerd op de karakteristieken van 216 ingrepen door een ervaren endo-uroloog [7]. In een grote Britse database (n = 4004) zijn factoren gevonden die postoperatieve infectie na URS voorspellen. De odds ratio's (OR's) voor infectie zijn voor het vrouwelijk geslacht en multipele stenen ongeveer 2 [8].
Ook de uitkomst van
extracorporal shockwave lithotripsy
(ESWL) is te voorspellen. Een Amerikaans cohort werd geanalyseerd en met
deep learning
algoritmes werd een nomogram opgesteld [9]. Helaas houden de Amerikanen de belangrijke predictoren voor zichzelf. Een calculator is wel in de maak.
De uitkomsten van percutane nefrolitholapaxie (PNL), zowel de
stone free rate
(SFR) als de complicaties, zijn met meerdere scoringssystemen te bepalen (CROES, S.T.O.N.E., GSS en ReSC). In een prospectieve analyse (n = 162) scoorden alle systemen goed. CROES voorspelde de SFR het beste en S.T.O.N.E. deed dit het beste voor complicaties [10]. Twee retrospectieve studies lieten ook zien dat de systemen elkaar niet veel ontlopen [11,12].
Nieuwe technieken, tips en tricks
Vorig jaar waren al de eerste preklinische en kleine klinische studies gedaan naar de
Super pulsed thulium fiber laser
(SPTFL) [13], maar ook afgelopen jaar heeft men niet stilgezeten. Oliver Traxer gaf in zijn webinar een uitstekende uitleg over de techniek ervan. In de pro-and-consessies wist Peter Kronenberg zijn tegenstander te verpulveren met een prachtige presentatie over alle voordelen van thulium boven holmium; een samenvatting staat in het kader.
In vitro geeft de SPTFL in kortere tijd meer en betere fragmentatie [14]. Uiteraard kan de SPTFL ook gebruikt worden voor PNL. De ervaringen met de eerste 120 patiënten zijn goed [15]. Ook de eerste en-blockresectie van een blaastumor en incisies van een UPJ-stenose (n = 48, recidief 4,2%) zijn al een feit met de SPTFL [16,17]. Holmium is zeker niet afgeschreven; met pulsmodulatie is het een erg krachtige en effectieve laser (Holmium 2.0 presentatie door Ghani).
Voordelen van SPTFL boven Ho:YAG [13]
Fragmentatie twee keer sneller

Dusting vier keer sneller

Meer partikels < 0,1 mm

Minder retropulsie

Kleinere laserfibers (tot 50 μm)

Lage energiesettings (tot 0,025 J)

Hoge frequentie (tot 2400 Hz)

Langere pulsduur (tot 50 ms)

Gewicht van de machine (35 kg vs. 300 kg)

Kleiner formaat, past in endoscopietoren

Minder energieconsumptie (800 vs. 10.000 W)

Geen krachtstroom op OK nodig

Minder lawaai (geen waterkoeling)
Ook zeer interessant is de EMS Lithoclast Trilogy. Pneumatisch en ultrasoon gedreven en met behulp van suctie zorgt dit apparaat voor een veel snellere steenbehandeling dan conventionele
dual energy
lithotrypsieapparaten. Wel ging 9% van de probes kapot. De oorzaak is nog onduidelijk (productie, verkeerd gebruik, etc.) [18].
In een meta-analyse van vier randomized controlled trials (n = 284) liet men zien dat het lokaal infiltreren met anesthetica rondom het PNL-traject minder postoperatieve pijnklachten geeft bij een
'tubeless'
PNL [18]. Het inspecteren en zo nodig nacoaguleren van het traject na PNL gaf in een vergelijkende studie (n = 485) minder postoperatieve bloedingen in de coagulatiegroep [20].
Een aanrader zijn de ESU-courses die allemaal gemakkelijk terug te vinden zijn op YouTube (zoek op
'urowebinar'
of ga naar het kanaal van de
'European School of Urology').
Veiligheid
In een aantal sessies werd ook ingegaan op veiligheidsaspecten. Met alle nieuwe lasers willen we steeds sneller gaan, maar kan dat zomaar? Bij een te hoge druk, dit is een intrapelvische druk > 30-40 mmHg, treedt terugstroom op en is de kans op complicaties, zoals sepsis groter (Plenaire sessie 6: Liatsikos). Het gebruik van een
access sheet
verlaagt de druk aanzienlijk. Ook het gebruik van een irrigatiepomp en
prestenting
zorgen ervoor dat er veel minder hoge drukken in de nier ontstaan.
Temperatuurverhoging werd beschreven in een prachtig mathematisch model [21]. De onderzoeksgroep concludeert dat het gebruik van verwarmde vloeistoffen bij laserlithotrypsie de temperatuur vaak boven de ('kritische') 43 °C opdrijft. Ook vermindert een irrigatiepomp de maximale temperatuur drastisch [22]. De temperatuurverhogingen tussen thulium en holmium zijn vergelijkbaar [23].
Een retrospectieve studie bij 114 patiënten liet zien dat een URS tijdens opname voor pyelonefritis net zo effectief en veilig is als een uitgestelde ingreep [24]. Complicaties werden echter niet op langere termijn bijgehouden.
Kosten
Steenlijden kost de maatschappij veel geld. De geschatte kosten in het Verenigd Koninkrijk zijn vergelijkbaar met de jaarlijkse kosten voor blaas- en prostaatkankerzorg samen (ca. £ 235 miljoen) [25]. In 2017 werd door Martin et al. beschreven dat in een laagvolumecentrum (< 100 per jaar) de wegwerp-ureterorenoscoop kosteneffectief is [26]. Onze Belgische collega's deden ook onderzoek naar de kosteneffectiviteit [27]. Afhankelijk van het merk wegwerpscoop is een herbruikbare scoop na 155-274 casus goedkoper. Een procedure met een herbruikbare flexibele scoop kost vanaf de 400 e ingreep ongeveer € 480.
Take home message
We gaan steeds meer naar een patiëntgebonden aanpak, waarbij we gebruik kunnen maken van rekenmodellen en nomogrammen om de optimale behandeling voor de patiënt te waarborgen.

De SPTFL is een veilige en veelbelovende laser; meer studies en toepassingen zullen volgen.

Druk- en temperatuurveranderingen kunnen schadelijk zijn. Ureterorenoscopen zullen in de toekomst uitgerust worden met druk- en temperatuursensoren zodat steeds veiliger gewerkt kan worden.

Ook het milieu en kosten gaan waarschijnlijk een grotere rol spelen in de toekomst.
Open Access
This article is distributed under the terms of the Creative Commons Attribution 4.0 International License (http:// creativecommons.org/licenses/by/4.0/), which permits unrestricted use, distribution, and reproduction in any medium, provided you give appropriate credit to the original author(s) and the source, provide a link to the Creative Commons license, and indicate if changes were made.
Open Access
This article is distributed under the terms of the Creative Commons Attribution 4.0 International License (
http://​creativecommons.​org/​licenses/​by/​4.​0/​
), which permits unrestricted use, distribution, and reproduction in any medium, provided you give appropriate credit to the original author(s) and the source, provide a link to the Creative Commons license, and indicate if changes were made.