01-07-2013 | Uitgave 5/2013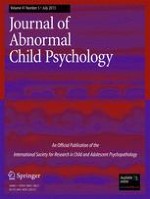 Early Fathering as a Predictor of Later Psychosocial Functioning Among Preschool Children with Behavior Problems
Tijdschrift:
Auteurs:

Sharonne D. Herbert, Elizabeth A. Harvey, Claudia I. Lugo-Candelas, Rosanna P. Breaux
Belangrijke opmerkingen
This research was supported by a grant from the National Institutes of Health (MH60132) awarded to the second author.
Abstract
The present study examined the role of early fathering in subsequent trajectories of social emotional and academic functioning of preschool children with behavior problems. Participants were 128 preschool-aged children (73 boys, 55 girls) with behavior problems whose biological fathers took part in a longitudinal study. Children were 3 years of age at the beginning of the study and were assessed annually for 3 years. Early paternal depressive symptoms predicted many aspects of children's outcome 3 years later, including externalizing and internalizing problems, social skills deficits, and lower cognitive and academic functioning, and predicted changes in children's externalizing, internalizing, and social problems across the preschool years. Paternal socioeconomic status (SES) also consistently predicted children's later functioning across these domains. Furthermore, self-reported paternal attention-deficit hyperactivity disorder (ADHD) symptoms and laxness, as well as observed frequent commands were associated with later externalizing problems in children. Paternal depressive symptoms and laxness mediated the relation between paternal ADHD symptoms and child functioning. Results suggest that aspects of early father functioning play an important role in the psychosocial, cognitive, and academic development of preschool-aged children with behavior problems.