30-04-2016 | Uitgave 1/2017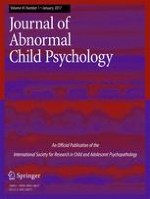 Depressive Symptoms in Mothers and Daughters: Attachment Style Moderates Reporter Agreement
Tijdschrift:
Auteurs:

Stephanie Milan, Sanne Wortel, Jennifer Ramirez, Linda Oshin
Abstract
Parents and adolescents show only modest agreement when reporting on depressive symptoms. Drawing from attachment theory and previous research on informant discrepancies, we tested hypotheses about how adolescent attachment style may impact reporting agreement in a sample of 184 low-income mother-adolescent daughter dyads (adolescent mean age = 15.4 (
SD
= 1.05), maternal mean age = 41.4 (
SD
= 7.60); 58 % Latina, 26 % African-American/Black, 16 % as non-Hispanic, White). Mothers and adolescents reported on their own and each others' depressive symptoms and adolescents reported on attachment style. Using a moderated Actor Partner Interdependence Model (APIM) to calculate reporter bias and accuracy estimates, we tested whether attachment style moderated maternal and adolescent accuracy in theoretically consistent ways. Mothers and adolescents showed similar levels of accuracy and bias when reporting on each other. Consistent with hypotheses, we found that adolescents who reported high levels of preoccupation were less accurate when reporting on their mothers because they tended to observe symptoms that their mothers did not endorse. Conversely, mothers were the most accurate in these dyads, potentially because preoccupied adolescents tend to elevate displays of emotional distress. Reporting accuracy was not affected by a dismissive style. These results add to literature indicating that parent-child reporting discrepancies often reflect meaningful information about relationships, and highlight the need to consider different sources of reporting bias and accuracy in assessment and treatment.