01-07-2016 | Uitgave 7/2016 Open Access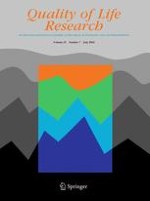 Demographics, social position, dental status and oral health-related quality of life in community-dwelling older adults
Tijdschrift:
Auteurs:

Maria Augusta Bessa Rebelo, Evangeline Maria Cardoso, Peter G. Robinson, Mario Vianna Vettore
Abstract
Purpose
To identify demographic, socioeconomic and dental clinical predictors of oral health-related quality of life (OHRQoL) in elderly people.
Methods
Cross-sectional study involving 613 elderly people aged 65–74 years in Manaus, Brazil. Interviews and oral examinations were carried out to collect demographic characteristics (age and sex) and socioeconomic data (income and education), dental clinical measures (DMFT, need of upper and lower dentures) and OHRQoL (GOHAI questionnaire). Structural equation modelling was used to estimate direct and indirect pathways between the variables.
Results
Being older predicted lower schooling but higher income. Higher income was linked to better dental status, which was linked to better OHRQoL. There were also indirect pathways. Age and education were linked to OHRQoL, mediated by clinical dental status. Income was associated with dental clinical status via education, and income predicted OHRQoL via education and clinical measures.
Conclusion
Our findings elucidate the complex pathways between individual, environmental factors and clinical factors that may determine OHRQoL and support the application of public health approaches to improve oral health in older people.