01-12-2012 | Original Article | Uitgave 12/2012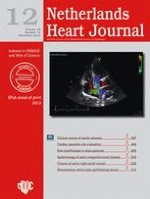 Consumption of diagnostic procedures and other cardiology care in chest pain patients after presentation at the emergency department
Tijdschrift:
Auteurs:

A. J. Six, B. E. Backus, A. Kingma, S. I. Kaandorp
Abstract
Objective
The HEART score serves risk stratification of chest pain patients at the emergency department (ED). Quicker and more solid decisions may be taken in these patients with application of this score. An analysis of medical consumption of 122 acute chest pain patients admitted before the introduction of this score may be indicative of possible savings.
Methods
Numbers of cardiology investigations and clinical admission days were counted. Charged cost of medicine was divided into three categories: ED, in-hospital, and outpatient clinic.
Results
The total cost of care was € 469,631, with an average of € 3849 per patient. Seventy-five percent of this cost was due to hospitalisation under the initial working diagnosis of acute coronary syndrome (ACS). This diagnosis was confirmed in only 29/122 (24 %) of the patients. The low-risk group (41 patients with HEART scores 0–3) included one patient with a previously scheduled CABG. In the remaining 40 patients, hospitalisation occurred in 12/40 (30 %) patients and 30/40 (75 %) patients visited the outpatient clinic. The total cost of medical care after presentation of these 40 patients was € 37,641; there were no cases where a new diagnosis of coronary artery disease was made. When medical care in this subgroup is declared redundant, major savings on national medical care budgets could be made.
Conclusion
If the HEART score were to be routinely applied, diagnostic pathways could be shortened and costs reduced, in particular in low-risk patients.