13-12-2017 | Original Article | Uitgave 1/2018 Open Access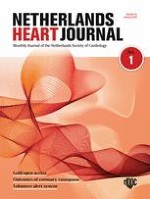 Long-term outcomes of a Caucasian cohort presenting with acute coronary syndrome and/or out-of-hospital cardiac arrest caused by coronary spasm
Tijdschrift:
Auteurs:

W. Vlastra, M. Piek, M. A. van Lavieren, M. E. J. C. Hassell, B. E. Claessen, G. W. Wijntjens, T. P. van de Hoef, K. D Sjauw, M. A. Beijk, R. Delewi, J. J. Piek
Belangrijke opmerkingen
W. Vlastra and M. Piek contributed equally as first authors to this manuscript.
Abstract
Background
Coronary artery spasm may be the underlying mechanism in up to 10% of cases of acute coronary syndrome (ACS) and sudden cardiac death. Asian individuals exhibit a 3-times greater incidence of spasm than Caucasians; this is likely due to different types of mechanisms. Consequently, solid data is limited about the long-term prognosis in Caucasian patients presenting with ACS and/or out-of-hospital cardiac arrest (OHCA) caused by coronary spasm.
Methods
Between 2002 and 2015, thirty Caucasian patients with coronary artery spasm presenting with ACS (
N
= 29) and/or OHCA (
N
= 11) were enrolled in this prospective registry. Follow-up, consisting of regular outpatient visits, was conducted with a mean follow-up period of 7.5 ± 3.3 years. Outcomes included presence of stable angina pectoris, recurrence of ACS, occurrence of implantable cardioverter defibrillator (ICD) shocks and death.
Results
The majority of patients (60%) remained asymptomatic during the entire follow-up period. At the end of the follow-up period only 3 patients still experienced stable angina (10%). Only 2 patients (7%) had a recurrent cardiac event, in which the ICD provided appropriate shock therapy. Half of the patients treated with stenting (
N
= 6), required re-interventions.
Conclusion
Coronary spasm with ACS and/or OHCA in a Caucasian patient cohort has a relatively benign prognosis in the majority of patients in long-term follow-up, if treated appropriately with medical therapy. Both the role of ICD in OHCA secondary to coronary spasm, and the efficacy of stenting to treat vasospastic angina, warrant further study in large-sized prospective clinical trials.