17-07-2017 | Original Article | Uitgave 10/2017 Open Access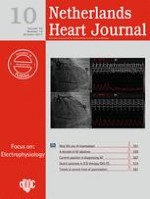 A decade of atrial fibrillation ablation
Shifts in patient characteristics and procedural outcomes
Tijdschrift:
Auteurs:

C. Teunissen, N. Clappers, R. J. Hassink, J. F. van der Heijden, F. H. Wittkampf, P. Loh
Abstract
Background
Over the past decade, radiofrequency catheter ablation (RFCA) of atrial fibrillation (AF) has evolved into a frequently performed procedure. The aim of this study was to monitor changes in patient characteristics, procedural characteristics, outcomes and complications over the past 10 years.
Methods
All consecutive patients who underwent primary RFCA treatment of AF in the University Medical Center Utrecht from 2005–2015 were included. In all patients, the primary ablation strategy was pulmonary vein (PV) antrum isolation without additional substrate modification. Baseline patient and procedure characteristics, and 1‑year follow-up data of 975 patients were prospectively collected.
Results
In 2005, 73.4% of patients suffered from paroxysmal AF, which decreased to 45.3% in 2014. Mean age increased from 54 ± 9 to 61 ± 10 years and CHA2DS2-VASc score ≥2 from 18 to 40.6%. History of AF decreased significantly from 7 to 4 years. Mean procedure duration was 237 ± 53 min in 2005 and 163 ± 41 min in 2014. Fluoroscopy time significantly decreased from 41 ± 17 to 19 ± 8 min and total radiation exposure from 465 (263–687) to 210 (118–376) mGy. One-year success remained similar (2005: 55.6%, 2014: 54.8%), as did the amount of PV reconnection observed during redo procedures. Due to a marked reduction in vascular complications and moderate PV stenosis, the total complication rate decreased significantly.
Conclusion
Over the past decade, AF ablation has increasingly been performed in older patients with persistent AF and more comorbidity. Moreover, it has been performed earlier after AF diagnosis. Although several performance parameters, such as procedure duration and complication rate, improved, 1‑year single procedure success remained unchanged.