01-10-2007 | Uitgave 5/2007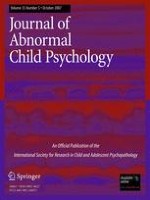 Risk Factors for Boy's Conduct Problems in Poor and Lower–middle-class Neighborhoods
Tijdschrift:
Auteurs:

Michael A. Schonberg, Daniel S. Shaw
Abstract
The joint trajectory analysis version of Nagin's (Group-based modeling of development. Cambridge, MA: Harvard University Press,
2005
) semiparametric, group-based approach for modeling trajectories was used to assess how boy's trajectories of conduct problems (CP) and neighborhood SES covaried from ages 5 to 12. Participants were recruited from Women, Infants, and Children clinics when they were 18 months old. Subsequent analyses examined whether boys from poor and more prosperous neighborhoods differed in the degree to which they were exposed to familial risk factors for CP during early childhood and the extent to which risk factors for CP were generalizable across communities. Findings revealed a small, but positive relationship, between boy's trajectories of CP and neighborhood SES. In addition, chronic CP boys from more prosperous communities were found to have more child/individual risk factors for CP than their counterparts from poorer communities. Implications for prevention and intervention are discussed.