01-08-2007 | Original Paper | Uitgave 6/2007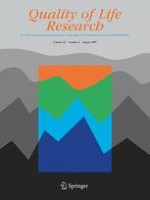 Reliability, validity, and minimally important differences of the SF-6D in systemic sclerosis
Tijdschrift:
Auteurs:

Dinesh Khanna, Daniel E. Furst, Weng Kee Wong, Joel Tsevat, Philip J. Clements, Grace S. Park, Arnold E. Postlethwaite, Mansoor Ahmed, Shaari Ginsburg, Ron D. Hays, for the Scleroderma Collagen Type 1 Study Group
Belangrijke opmerkingen
On behalf of the Oral Type 1 Collagen in Scleroderma Study Group, the following investigators also participated:
University of Tennessee, Memphis: Andrew B. Kang, MD;
Boston University, Boston, Massachusetts: Robert Simms, MD; Joseph Korn, MD; Peter Merkel, MD, MPH;
Medical University of South Carolina, Charleston, South Carolina: Edwin Smith, MD;
Johns Hopkins School of Medicine, Baltimore, Maryland: Fred Wigley, MD; Barbara White, MD;
Georgetown University, Washington, DC: Virginia Steen, MD;
University of Texas Houston, Houston, Texas: Maureen Mayes, MD, MPH;
University of Alabama, Birmingham, Alabama: Larry Moreland, MD; Barri Fessler, MD;
Virginia Mason Research Center, Seattle, Washington: Jerry Molitor, MD, PhD;
University of Connecticut Health Center, Farmington, Connecticut: Naomi Rothfield, MD;
Hospital for Special Surgery, New York City, New York: Robert Spiera, MD.
Abstract
Objectives
To evaluate the reliability and validity and estimate the minimally important difference (MID) for the SF-6D in patients with systemic sclerosis (SSc).
Subjects
We used data from two clinical studies to analyze the SF-6D in patients with SSc: Study 1 was a cross-sectional observational study (
N
= 107) designed to assess three direct preference measures—the rating scale, time trade-off, and standard gamble (SG) in patients with diffuse SSc and limited SSc, and Study 2 was a 12-month randomized, placebo-controlled, clinical trial (
N
= 168) assessing oral bovine collagen versus placebo in diffuse SSc.
Methods
We assessed the test–retest reliability of the SF-6D in Study 2 over a mean (SD) 4.8 (3.0)-week interval and the agreement between the SF-6D and direct preference measures in Study 1 using intraclass correlations (ICC). The MID was estimated using three different anchors—the SF-36 change in health item (patients who answered "somewhat better" formed the MID group), the Health Assessment Questionnaire-Disability Index (HAQ-DI; change of ≥0.14 and ≥0.22) and the skin score (change of ≥5.3).
Results
The mean (SD) SF-6D scores were 0.61 (0.12) in Study 1 and 0.64 (0.13) in Study 2. Test–retest reliability for the SF-6D was high (ICC = 0.82 [95% CI: 0.76, 0.87]). Agreement between the SF-6D and three direct preferences measures was poor to moderate (0.16–0.52). The MID estimate for the SF-6D using the change in SF-36 item −0.012 and this level of change was similar to the no change group. The mean MID estimate for the SF-6D improvement using the HAQ-DI and skin score as anchors was 0.035 (effect size of 0.27).
Conclusion
This is the first study to assess the SF-6D in SSc. The SF-6D is reliable and valid in patients with SSc. We provide MID estimates that can aid in calculating sample size for clinical trials involving patients with diffuse SSc.