01-08-2011 | Uitgave 6/2011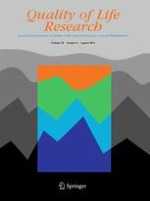 Psychosocial interventions to improve quality of life in prostate cancer survivors and their intimate or family partners
Tijdschrift:
Auteurs:

Terry A. Badger, Chris Segrin, Aurelio J. Figueredo, Joanne Harrington, Kate Sheppard, Stacey Passalacqua, Alice Pasvogel, Maria Bishop
Abstract
Purpose
The primary purpose was to test the effectiveness of two telephone-delivered psychosocial interventions for maintaining and improving quality of life (QOL) (psychological, physical, social, and spiritual well-being) among 71 prostate cancer survivors and the 70 intimate or family partners who were supporting them in their recovery.
Methods
This study used a three-wave repeated measures experimental design. Both the interpersonal counseling intervention (TIP-C) and health education attention condition (HEAC) were delivered using the telephone.
Results
Improvements in depression, negative affect, stress, fatigue, and spiritual well-being were significantly higher for survivors in the HEAC than for those in the TIP-C condition. Partners in the HEAC condition showed significantly greater improvements in depression, fatigue, social support from family members, social well-being, and spiritual well-being compared to partners in the TIP-C condition. The results revealed superior outcomes for those assigned to the HEAC intervention.
Conclusions
The psychosocial interventions in this study were effective in maintaining or improving the QOL for prostate cancer survivors and their partners. Both the survivor and their intimate partner or family member benefitted from the interventions. Future research is needed to determine the optimal timing and client characteristics for each intervention.