2014 | OriginalPaper | Hoofdstuk
2. Odontogenic and Non-odontogenic Pain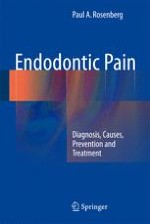 eerste hoofdstuk lezen
Auteur: DDS Paul A. Rosenberg
Uitgeverij: Springer Berlin Heidelberg
Abstract
It is important for the clinician to recognize basic terminology associated with the peripheral nervous system and the biology of pain. This chapter describes the significance of allodynia, hyperalgesia, and central and peripheral sensitization. These terms are important because clinicians rely on clinical tests to evaluate the status of the pulp and periapical tissues. Hyperalgesia, allodynia, and central and peripheral sensitization are important findings during the diagnostic process.
This chapter also discusses the differential diagnosis of heterotopic (referred pain) sinusitis and headache disorders all of which can mimic endodontic pain. Herpes zoster can also pose a diagnostic challenge especially prior to the presence of intraoral or skin lesions. A classic case of herpes zoster that seemed initially to be an endodontic problem is described.
The deep, dull ache commonly caused by myofascial pain is reviewed, and the muscles most often involved are described. Differential diagnosis of myofascial pain from endodontic pain is a common problem, and this chapter reviews important diagnostic procedures that can be helpful. Headache disorders may pose another complicated diagnosis. Migraine, tension headache, and cluster headaches are reviewed since their symptoms may mislead a clinician into thinking that the patient's pain is odontogenic in nature.