05-02-2021 | Uitgave 6/2021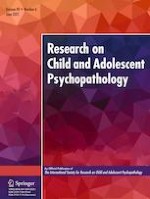 Improved Parent–Child Interactions Predict Reduced Internalizing Symptoms Among the Offspring of Parents with Bipolar Disorder Undergoing a Prevention Program: A Proof-of-Concept Study
Tijdschrift:
Auteurs:

Lisa Serravalle, Vanessa Iacono, Alexa L. Wilson, Mark Anthony Orlando, Virginia Tsekova, Mark A. Ellenbogen
Belangrijke opmerkingen
Supplementary Information
The original online version of this article was revised: We notice an error in the information of the corresponding author. His email is correct, but the name is written as 'Mark Anthony Orlando' instead of 'Mark Ellenbogen'.
Publisher's Note
Springer Nature remains neutral with regard to jurisdictional claims in published maps and institutional affiliations.
Abstract
The offspring of parents with bipolar disorder (OBD) exhibit elevated rates of psychopathology. However, preventative interventions are lacking. Using a quasi-experimental design with an assessment-only control group, we examined if a 12-week program (entitled Reducing Unwanted Stress in the Home, RUSH) decreases internalizing and externalizing symptoms in the OBD (aged 6–11 years) via intervention-related gains in parent–child interaction quality. Participants consisted of 55 offspring (26 OBD; 29 controls) and their parents. Assessments were conducted at four time points up to six months following the end of the RUSH program, during which parent and teacher ratings of child symptoms, and parent–child interaction quality (parental positivity and negativity, and dyadic mutuality) were measured. Multilevel modelling showed improved parental positivity and negativity, and dyadic mutuality among target dyads immediately and six months post-intervention. For the bootstrapping mediation analyses, intervention-related change in parental negativity fully mediated the relations between having participated in the RUSH program and lower parent-reported internalizing problems among the OBD six months later. These data provide evidence of the efficacy of the RUSH program for OBD who exhibited improved interactions with their parents post-intervention. Further investigation via a randomized controlled trial is warranted.