13-06-2019 | ORIGINAL PAPER | Uitgave 10/2019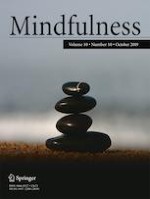 Impact of Mindfulness Martial Arts Training on Neural and Behavioral Indices of Attention in Youth with Learning Disabilities and Co-occurring Mental Health Challenges
Tijdschrift:
Auteurs:

Karen Milligan, Annabel Sibalis, Trish McKeough, Christine Lackner, Louis A. Schmidt, Carson Pun, Sidney J. Segalowitz
Belangrijke opmerkingen
Publisher's Note
Springer Nature remains neutral with regard to jurisdictional claims in published maps and institutional affiliations.
Abstract
Objectives
Deficits in attentional control are often associated with academic and mental health challenges experienced by youth with learning disabilities (LDs). Mindfulness treatments may improve attentional control; however, findings in youth populations to date have been mixed. Neural measures of attentional control may be more sensitive to treatment effects, but have been rarely employed. We addressed this limitation by examining the impact of a 20-week mindfulness martial arts training program for youth aged 11–17 years with LD and mental health challenge on electroencephalography (EEG), parent-report, and behavioral indices of attention.
Methods
At pre- and post-treatment, a sample of 48 youth receiving treatment and 38 waitlisted controls completed two attention tasks while EEG was recorded. Task performance and P3 amplitude and latency from EEG data were calculated. Parent-reported attention was also measured.
Results
Findings varied depending on the type of measure. Controlling for pre-treatment levels of attention, significant post-treatment group differences were indicated on parent-reported attention and P3 amplitude for one attention task, with significant gains noted for the treatment but not the control group. Significant gains identified were maintained at 3-month follow-up for the treatment group. No significant post-treatment group differences were found for P3 latency or task performance measures.
Conclusions
Mindfulness-based martial arts training appears to significantly impact some, but not all, indices of attentional control. Further research using a randomized control trial design with an exercise-only control is warranted. Recommendations for future research design are discussed.