01-10-2013 | Uitgave 8/2013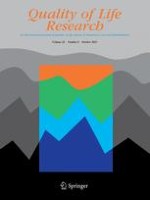 Exposure to traumatic events and health-related quality of life in preschool-aged children
Tijdschrift:
Auteurs:

Yvonne Humenay Roberts, Monette Ferguson, Cindy A. Crusto
Abstract
Purpose
To examine the association of lifetime exposure to traumatic events with health-related quality of life (HRQOL) and psychosocial health in children aged 3 through 5 years.
Methods
This study is a community-based, cross-sectional survey of 170 children and their parents. Traumatic events were assessed by the Traumatic Events Screening Inventory—Parent Report Revised using criteria for potentially traumatic events in young childhood outlined by the Zero to Three working group. HRQOL of young children was measured using the 97-item Infant/Toddler Quality of Life Questionnaire, and psychosocial health was measured using the Child Behavior Checklist 1.5–5.
Results
One hundred and twenty-three (72 %) of children had experienced at least one type of trauma event. Children who had been exposed to 1–3 types of trauma and those exposed to 4 or more types of trauma had significantly worse HRQOL and psychosocial health than children not exposed to trauma. Significant effect sizes between children exposed to low levels or high levels of traumatic events and children not exposed to trauma ranged from small to large.
Conclusions
Exposure to traumatic events in early childhood is associated with less positive HRQOL and psychosocial health. Cumulative trauma exposure led to significant effects in outcome variables in this population. Interventions to decrease trauma exposure and to reduce significant stress in early childhood associated with exposure to trauma may be appropriate strategies for preventing negative health conditions throughout the life span.