01-12-2021 | Review | Uitgave 1/2021 Open Access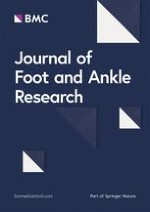 Comparison of 3D scanning versus traditional methods of capturing foot and ankle morphology for the fabrication of orthoses: a systematic review
Tijdschrift:
Auteurs:

Muhannad Farhan, Joyce Zhanzi Wang, Paula Bray, Joshua Burns, Tegan L. Cheng
Belangrijke opmerkingen
Supplementary Information
Publisher's Note
Springer Nature remains neutral with regard to jurisdictional claims in published maps and institutional affiliations.
Abstract
Background
In the production of ankle-foot orthoses and in-shoe foot orthoses, lower leg morphology is traditionally captured using a plaster cast or foam impression box. Plaster-based processes are a time-consuming and labour-intensive fabrication method. 3D scanning is a promising alternative, however how these new technologies compare with traditional methods is unclear. The aim of this systematic review was to compare the speed, accuracy and reliability of 3D scanning with traditional methods of capturing foot and ankle morphology for fabricating orthoses.
Methods
PRISMA guidelines were followed and electronic databases were searched to March 2020 using keywords related to 3D scanning technologies and traditional foot and ankle morphology capture methods. Studies of any design from healthy or clinical populations of any age and gender were eligible for inclusion. Studies must have compared 3D scanning to another form of capturing morphology of the foot and/or ankle. Data relating to speed, accuracy and reliability as well as study design, 3D scanner specifications and comparative capture techniques were extracted by two authors (M.F. and Z.W.). Study quality was assessed using the Grading of Recommendations, Assessment, Development and Evaluations (GRADE) and Consensus-Based Standards for the Selection of Health Measurement Instruments (COSMIN).
Results
Six articles met the inclusion criteria, whereby 3D scanning was compared to five traditional methods (plaster cast, foam impression box, ink footprint, digital footprint and clinical assessment). The quality of study outcomes was rated low to moderate (GRADE) and doubtful to adequate (COSMIN). Compared to traditional methods, 3D scanning appeared to be faster than casting (2 to 11 min vs 11 to 16 min). Inter-rater reliability (ICC 0.18–0.99) and intra-rater reliability (ICCs 0.25–0.99) were highly variable for both 3D scanning and traditional techniques, with higher agreement generally dependent on the foot parameter measured.
Conclusions
The quality and quantity of literature comparing the speed, accuracy and reliability of 3D scanning with traditional methods of capturing foot and ankle morphology is low. 3D scanning appears to be faster especially for experienced users, however accuracy and reliability between methods is variable.