01-12-2019 | Research | Uitgave 1/2019 Open Access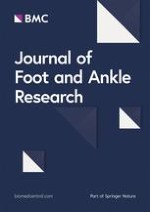 "Come and live with my feet and you'll understand" – a qualitative study exploring the experiences of retail footwear in women with rheumatoid arthritis
Tijdschrift:
Auteurs:

Peta Ellen Tehan, Trish Morpeth, Anita Ellen Williams, Nicola Dalbeth, Keith Rome
Abstract
Background
Foot pain and deformity are common in people with rheumatoid arthritis (RA). Previous research has identified that women with RA seek retail footwear to alleviate their foot problems. The specific footwear features that women with RA require, and what would help them to find shoes that meet these requirements, are unknown. This study aimed to determine the factors that influence the choice of appropriate retail footwear by women with RA.
Method
An overarching qualitative approach was taken, using reflexive thematic analysis of conversational style interviews. The interviews explored experiences and use of retail footwear in 20 women with RA. The interviews were digitally recorded transcribed verbatim and analysed using a reflexive thematic framework.
Results
Women with RA sought retail footwear which had adequate cushioning, width, a flexible sole, lightweight, were made from breathable materials and were easy to put on and take off. However, this choice was driven by the need for comfort, cost and usability, with aesthetics being less of a priority. Despite having opinions on what criteria they felt that they needed, these women did not feel empowered to make good choices about purchasing retail footwear for symptomatic relief. Furthermore, they did not receive the necessary support from podiatrists and shoe shop staff.
Conclusion
Women with RA have clear ideas about what features a retail shoe should have to achieve comfort. There is a constant compromise between achieving comfort and their feelings about their appearance and how they feel others perceive them. Women with RA describe negative experiences with shoe shop assistants and podiatrists leading to poor footwear choices. Both retail staff and podiatrists need increased understanding about the particular problems that women with RA experience.