01-12-2019 | Meeting Abstracts | bijlage 2/2019 Open Access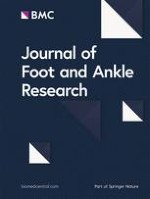 Abstracts from the College of Podiatry Annual Conference 2018
Bournemouth, UK. 22-24 November 2018
Tijdschrift:
Belangrijke opmerkingen
Publisher's Note
Springer Nature remains neutral with regard to jurisdictional claims in published maps and institutional affiliations.
Background
: Intermittent claudication (IC) is the most common symptom of peripheral arterial disease (PAD). It is strongly associated with an increased risk of myocardial infarction, stroke and cardiovascular mortality by up to 4 times greater than in patients without IC. Over the years effort has been made within the health sector to raise awareness of the cardiovascular risk factors present inpatients with PAD. However, a prospective registry of patients was still lacking. ...