2011 | OriginalPaper | Hoofdstuk
5 What's Special About Medical Writing?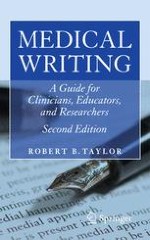 eerste hoofdstuk lezen
Auteur: M.D. Robert B. Taylor
Uitgeverij: Springer New York
Abstract
There are written works—such as the
Bible
and the
Quran
, the American Declaration of Independence and
Quotations From Chairman Mao Tse-Tung
, the latter known to many of us as "The Little Red Book"—that have changed the world. There is also writing that is lost, or has not been deciphered yet. We know little about early central African cultures because no one recorded what happened at the time. Our knowledge of Mayan and Inca cultures is deficient because most of their writing was destroyed by zealous Christian conquerors. Native American languages were first written in 1921, when a phonetic alphabet of 86 symbols was developed by a Cherokee named Sequoyah; this feat was honored when the redwood tree was named
Sequoia
[2]. It was 1952 when we began to decipher the written language of ancient Crete [3].