2018 | OriginalPaper | Hoofdstuk
30. Zuurbranden (pyrosis, refluxklachten)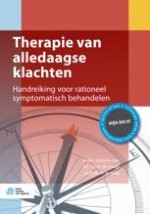 eerste hoofdstuk lezen
Auteurs: Prof. dr. M. E. Numans, Dr. N. T. van den Broek, Drs. T. O. H. de Jongh
Uitgeverij: Bohn Stafleu van Loghum
Samenvatting beleid
Bij klachten in de bovenbuik waar zuurbranden (ook wel pyrosis of refluxklachten genoemd) op de voorgrond staat, gelden grotendeels dezelfde aanbevelingen als die in H.
25
zijn beschreven: sluit eerst alarmsymptomen en andere verklaringen voor de klachten uit. Sluit met niet-medicamenteuze maatregelen aan bij de klachten, voedingsgewoonten en leefwijze van de patiënt. Erg effectief zijn die maatregelen meestal niet. Begin conform het step-up-beleid met de minst ingrijpende medicatie. Dat betekent antacida, H
2
-receptorantagonisten of protonpompremmers (PPI), in die volgorde. Dit is mede afhankelijk van de medicatie die patiënt zelf al heeft gebruikt en van de ernst van de klachten. Protonpompremmers zijn bij alle vormen van refluxklachten en refluxziekte het effectiefst, maar schrijf PPI alleen voor na zo goed mogelijke diagnostiek en op goede indicatie en voorkom onterecht chronisch gebruik. Bij refractaire refluxklachten die niet reageren op zuurremming, komt aanvullende diagnostiek in beeld, die gastroscopie en/of verwijzing inhoudt. Adviseer de patiënt om de informatie na te lezen op
www.​thuisarts.​nl/​maagklachten
.