01-03-2010 | Onderzoek | Uitgave 3/2010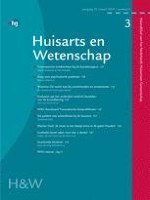 Zorg voor psychotische patiënten: de taakopvatting van de huisarts
Tijdschrift:
Auteurs:

dr. M. J. T. Oud, dr. J. Schuling, dr. K. H. Groenier, dr. J. H. Dekker, prof.dr. B. Meyboom-de Jong, dr. C. J. Slooff
Belangrijke opmerkingen
Mogelijke belangenverstrengeling: dit vragenlijstonderzoek werd financieel mogelijk gemaakt door het Rob Giel Onderzoekscentrum (RGOc). Het RGOc is een samenwerkingsverband tussen Lentis, de stichtingen GGZ Friesland en GGZ Drenthe, en het Universitair Centrum Psychiatrie van het Universitair Medisch Centrum Groningen, met als doel bestaand wetenschappelijk onderzoek in de drie noordelijke provincies te bundelen en te versterken, en nieuw onderzoek op het gebied van psychiatrische zorg te stimuleren en te ontwikkelen.
Dit artikel is een vertaling van: Oud MJT, Schuling J, Slooff CJ, Groenier KH, Dekker JH, Meyboom-de Jong B. Care for patients with severe mental illness: the general practitioner's role perspective. BMC Fam Pract 2009;10:29. Publicatie gebeurt met toestemming van de uitgever.
huisartsonderzoeker en kaderhuisarts GGZ
huisarts en staflid
biostatisticus en staflid
huisarts en staflid
em. hoogleraar Huisartsgeneeskunde
psychiater en universitair hoofddocent
Samenvatting
Oud MJT, Schuling J, Slooff CJ, Groenier KH, Dekker JH, Meyboom- de Jong B. Zorg voor psychotische patiënten: de taakopvatting van de huisarts. Huisarts Wet 2010;53(3):128-34.
Achtergrond
Patiënten die een psychose hebben doorgemaakt, hebben meer kans op lichamelijke ziekten maar zijn juist minder geneigd hulp te zoeken. Deze patiënten, maar ook hun familieleden, hebben daarom behoefte aan laagdrempelige steun van de huisarts. Wij wilden weten in hoeverre huisartsen bereid en in staat zijn de somatische, psychische en psychiatrische problemen van deze patiënten te monitoren en waar mogelijk te behandelen, en welke belemmeringen zij hierbij ervaren.
Methode
Wij stuurden aan een representatieve steekproef, bestaande uit 700 Nederlandse huisartsen, een lijst toe met 66 vragen. De vragen betroffen 'Mening en taakopvattingen', 'Handelen en ervaringen' en 'Kenmerken van de huisarts en zijn praktijkorganisatie'.
Resultaten
Wij ontvingen 186 vragenlijsten (27%) ingevuld retour. De respondenten vonden dat de huisarts het eerste aanspreekpunt is bij een acute verwardheid en achtten zich daar in meerderheid redelijk toe in staat. Ook vonden zij dat het opsporen en behandelen van somatische comorbiditeit bij patiënten in de chronische of residuale fase tot hun kerntaken behoort, naast het verstrekken van steun en informatie aan de familie. In meerderheid bleken zij bereid om de lichamelijke gezondheid van chronisch psychiatrische patiënten periodiek te controleren. Huisartsopleiders en huisartsen met kleinere praktijken maakten vaker dan gemiddeld vervolgafspraken en waren ook vaker bereid de zelfzorg van deze patiënten te controleren. Wel vonden de respondenten dat de samenwerking met de tweedelijns ggz beter kan. Zij zouden graag meer erkenning krijgen voor hun rol als medebehandelaar.
Conclusie
Huisartsen zijn bereid en in staat hun aandeel te leveren in de zorg voor patiënten met psychotische stoornissen. Dat geldt niet alleen voor de eerste opvang bij een acute verwardheid, maar ook voor het opsporen en behandelen van bijwerkingen en lichamelijke klachten in de chronische fase. Wel is er behoefte aan gerichte nascholing en aan betere samenwerking met de tweede lijn.