01-05-2012 | Uitgave 4/2012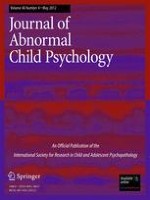 Youth Appraisals of Inter-parental Conflict and Genetic and Environmental Contributions to Attention-Deficit Hyperactivity Disorder: Examination of GxE Effects in a Twin Sample
Tijdschrift:
Auteurs:

Molly Nikolas, Kelly L. Klump, S. Alexandra Burt
Abstract
Identification of gene x environment interactions (GxE) for attention-deficit hyperactivity disorder (ADHD) is a crucial component to understanding the mechanisms underpinning the disorder, as prior work indicates large genetic influences and numerous environmental risk factors. Building on prior research, children's appraisals of self-blame were examined as a psychosocial moderator of latent etiological influences on ADHD via biometric twin models, which provide an omnibus test of GxE while managing the potential confound of gene-environment correlation. Participants were 246 twin pairs (total
n
 = 492) ages 6–16 years. ADHD behaviors were assessed via mother report on the Child Behavior Checklist. To assess level of self-blame, each twin completed the Children's Perception of Inter-parental Conflict scale. Two biometric GxE models were fit to the data. The first model revealed a significant decrease in genetic effects and a significant increase in unique environmental influences on ADHD with increasing levels of self-blame. These results generally persisted even after controlling for confounding effects due to gene-environment correlation in the second model. Results suggest that appraisals of self-blame in relation to inter-parental conflict may act as a key moderator of etiological contributions to ADHD.