01-03-2012 | Review Article | Uitgave 1/2012 Open Access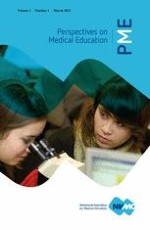 Workplace learning
Tijdschrift:
Auteur:

Tim Dornan
Introduction
Workplace learning is as old as medicine itself. Before the Flexner report of 1910 [
1
], the term tended to mean working for more senior doctors who were accountable to nobody for the quality of their work, which could be very poor. Flexner was commissioned to write his report to improve that state of affairs. One result of the report was that medical education came to be delivered (or at least supervised) by universities. Another was that educational standards rose. Teachers were now academic practitioners but the tradition of learning through service persisted. Other articles in this issue describe newer developments in medical education—in student selection, faculty development, assessment, simulation, and competency development. Old-fashioned workplace learning, however, remains important because practice has to be learned by practising. Workplace learning exists in medical curricula in many different guises: Early clinical experience, clerkships, residency, and continuing medical education. I start with some personal observations on how workplace medical education is practised in Dutch-speaking Europe and then review Dutch education research in the field. Throughout the article, I use the adjective 'Dutch' to refer to medical education in Flanders as well as the Netherlands.
The practice of workplace learning
Research into workplace learning
Medical student education
Residency
I recently searched the international literature for empirical research into how residents learn. Remarkably little has been published. I judged two lines of enquiry to be particularly informative. Both were qualitative and both were Dutch [
35
,
36
]. Residents' learning, according to those papers, always starts from experiences encountered in the course of clinical work [
35
,
37
], although the sheer pressure of clinical workload can easily reduce the value of workplace learning [
36
]. So, residents' most important learning is 'informal' [
36
], as has been shown in other professions [
38
]. One of those two studies [
36
] was into how residents learn from deliberate practice while the other [
35
] explored how residents gave personal meaning to their workplace experiences, supported by their supervisors [
37
]. Teunissen et al. continued their research into personal meaning with two further studies. One was an experiment, which showed how 'priming' junior residents with an extraneous line of thought influenced their germane thinking about clinical problems [
39
]. This experiment supported their theory that residents' interpretations of workplace experiences are influenced by personal knowledge and showed that extraneous factors have a stronger influence in junior than senior residents [
39
]. A second study by the same group evaluated two 'dispositions' of trainees and how they related to one another: One was being disposed to learn versus being disposed to make a good impression on others. The other disposition was towards seeking or not seeking feedback, given its perceived benefits and costs to the resident. The paper makes two important points: One is that residents are not passive recipients of feedback; feedback is an active discourse between supervisor and supervisee. The second point is that specialists' style of giving feedback influences residents' learning. Supportive specialists give feedback in a way that helps residents perceive more benefits and fewer costs [
40
].
Returning to my international review of research into how residents learn, one of the four remaining papers—which contributed consensus data about important factors in workplace learning environments—was Dutch [
41
]. The remaining three non-Dutch papers examined factors that influence residents' participatory learning [
42
], the exchange of tacit knowledge between anaesthesiologists [
43
], and tensions between patient care and learning [
44
].
Conclusion
According to this survey, the Dutch contribution to international scholarship in workplace learning is strong at the undergraduate and residency levels and absent at the CME level. A positive feature of the Dutch effort is the amount of high-quality research into residency education. A methodological weakness of the workplace learning research I have reviewed—in common research from other countries—is an excess of observational over interventional/experimental research. Qualitative workplace research tends towards focus groups and interviews in which researchers take respondents' words as truth, rather than being critical about why respondents say the things they do in the research context. There are qualitative methodologies that address those concerns. The analytical heuristics of phenomenology and discourse analysis, for example, address that epistemological problem. Workplace learning research could benefit from alternative methods of data collection: Direct (participant) observation and audio-diary techniques, for example, give near contemporaneous accounts of learning, which reduce the problem of respondents' experiences being reconstructed in retrospect to fit the research. Even without using phenomenology or discourse analysis, analytical approaches could be more sophisticated. Grounded theory had a strong influence on the early years of qualitative research, leaving a legacy of work that starts from no identified theoretical position and never reaches one. Grounded theory has a clear place, particularly in 'scoping' a field of research, when it generates new theory. 'Thematic analysis', in my view, has a more limited place, because it too rarely states its epistemological position and too often assumes that some objective truth resides within research respondents' spoken words. Constructivist grounded theory is showing promise as a methodology that addresses some of the concerns expressed above. By using prior theory to provide 'sensitizing insights' that can be applied to data interpretation, it allows new theory to be built on pre-existing theory. There are examples of this in the Dutch work I have reviewed. Teunissen et al. [
35
], for example, allowed one grounded theory study to inform a second one [
37
], and then elaborated their theory programmatically by means of well-theorised experimental [
39
] and quantitative survey research [
40
]. Bombeke et al. derived sensitizing concepts from an 'Attitude-Social influence-Self efficacy model' and used them to analyze their patient-centredness data. de Feijter et al. [
3
] used Activity Theory in an informative way to reveal tensions in patient safety education while van der Zwet et al. concept of 'developmental space' was informed by sociocultural learning theory [
26
].
So what, finally, can we conclude about the state of the art in workplace learning? Workplaces afford rich learning opportunities, which are integral to their primary role—getting jobs done—but in constant tension with it. That tension is responsible for both the greatest successes and the greatest failings of workplace learning. Learning is mediated by the relationships that exist between learners, peers, more experienced practitioners, other health professionals, and patients. Participation in the activities of workplaces is a discourse, in which all participants play active parts. Supervision, feedback, and other teaching and learning activities are, likewise, discourses in which learners play important parts. Each workplace has its own rich cultural history, which means they respond slowly to efforts to change them. Humanistic qualities of practitioners, which have not traditionally been given the importance they have now assumed, are the essential ingredient of effective workplace learning environments. Education research has given clear direction about how those environments can be improved, but improving them will require persistence and patience.
Essentials
Conscious effort is needed to make working environments conducive to learning as well as 'getting the job done'.

Constructive feedback from a supportive practitioner who is known to a learner aids learning.

Excessive workload makes it hard for residents to learn from practice.

Continuing education is a phase of the lifelong learning continuum that tends to be neglected.

There is more to qualitative research than transcribing what people say in interviews or group discussions and analysing it thematically.
Open Access
This article is distributed under the terms of the Creative Commons Attribution License which permits any use, distribution, and reproduction in any medium, provided the original author(s) and the source are credited.