22-12-2020 | Original Article | Uitgave 1/2021 Open Access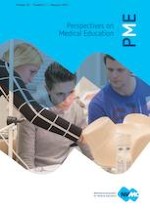 Working beyond disciplines in teacher teams: teachers' revelations on enablers and inhibitors
Tijdschrift:
Auteurs:

Stephanie N. E. Meeuwissen, Wim H. Gijselaers, Ineke H. A. P. Wolfhagen, Mirjam G. A. oude Egbrink
Belangrijke opmerkingen
Supplementary Information
Abstract
Introduction
Health professions education faces transitions from monodisciplinary to integrated education and from soloist teachers to interdisciplinary teacher teams. Interdisciplinary teamwork has been found complex and prone to conflict. Teachers' perceptions of why some teams work and learn as a real interdisciplinary team and others do not are lacking in this setting. We studied the factors that teachers perceive as enabling and/or inhibiting interdisciplinary team learning.
Methods
In this exploratory, qualitative study, we conducted 17 semi-structured, vignette-guided interviews with teachers recruited from diverse disciplines in undergraduate health professions programmes at Maastricht University, the Netherlands, through maximum variation sampling. Team learning research informed data collection and template analysis.
Results
We identified three themes representing the factors that teachers perceived to influence interdisciplinary team learning: 'alignment/misalignment with the educational philosophy' (regarding personal attributes, tendencies and motivation), 'leadership practices' (encompassing team vision, responsibility and reflection), and 'involvement in organisational processes' (covering organisational decision-making, support and learning opportunities). For interdisciplinary team learning in development of integrated education, teachers emphasised their personal ability to move beyond disciplinary boundaries. Shared team leadership enabled the creation of a shared vision, shared responsibility, and team reflection. Lastly, teacher involvement in educational management, peer support and learning was considered important.
Discussion
To work beyond disciplines in health professions education, teachers should take an interest in integrated education, share responsibility and work in an environment where people continuously learn from others. Organisations can facilitate this by involving teachers in decision-making processes and providing faculty development aimed to foster shared leadership and team reflection.