24-02-2016 | Uitgave 8/2016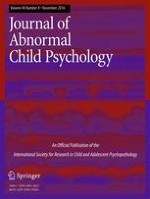 Which Type of Parent Training Works Best for Preschoolers with Comorbid ADHD and ODD? A Secondary Analysis of a Randomized Controlled Trial Comparing Generic and Specialized Programs
Tijdschrift:
Auteurs:

Rex Forehand, Justin Parent, Edmund Sonuga-Barke, Virginia D. Peisch, Nicholas Long, Howard B. Abikoff
Belangrijke opmerkingen
This research was supported by NIMH grant 5R01MH074556 to the last author, NIMH grant R01MH100377 to the first author, and NICHD grant F31HD082858 to the second author. The content is solely the responsibility of the authors and does not necessarily represent he official views of the National Institutes of Health.
Abstract
The present study examined whether the presence of comorbid ODD differentially moderated the outcome of two Behavioral Parent Training (BPT) programs in a sample of preschoolers with ADHD: One designed specifically for ADHD (NFPP: New Forest Parenting Programme) and one designed primarily for ODD (HNC: Helping the Noncompliant Child). In a secondary analysis, 130 parents and their 3–4 year-old children diagnosed with ADHD were assigned to one of the two programs. 44.6 % of the children also met criteria for ODD. Significant interactions between treatment conditions (NFPP vs. HNC) and child ODD diagnosis (presence vs. absence) indicated that based on some parent and teacher reports, HNC was more effective with disruptive behaviors than NFPP but only when children had a comorbid diagnosis. Further, based on teacher report, NFPP was more effective with these behaviors when children had a diagnosis of only ADHD whereas HNC was equally effective across ADHD only and comorbid ODD diagnoses. Comorbidity profile did not interact with treatment program when parent or teacher reported ADHD symptoms served as the outcome. Implications for clinical interventions are discussed and directions for future work are provided.