01-08-2014 | Uitgave 6/2014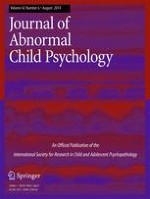 When Trust Fails: The Relation Between Children's Trust Beliefs in Peers and their Peer Interactions in a Natural Setting
Tijdschrift:
Auteurs:

Ken J. Rotenberg, Pamela Qualter, Nicola L. Holt, Rebecca A. Harris, Peter Henzi, Louise Barrett
Belangrijke opmerkingen
Electronic supplementary material
The online version of this article (doi:
10.​1007/​s10802-013-9835-8
) contains supplementary material, which is available to authorized users.
Journal of Abnormal Child Psychology
When an author or the institution of the author has a relationship, financial or otherwise, with individuals or organizations that could influence the author's work inappropriately, a conflict of interest may exist. Examples of potential conflicts of interest may include but are not limited to academic, personal, or political relationships; employment; consultancies or honoraria; and finical connections such as stock ownership and funding. Although an author may not feel that there are conflicts, disclosure of relationships and interests that could be viewed by others as conflicts of interest affords a more transparent and prudent process.
All authors for
Journal of Abnormal Child Psychology
must complete this form and disclose any actual or potential conflict of interest. The Journal may publish such disclosures if judged to be important to readers.
X I have no potential conflict of interest pertaining to this
Journal of Abnormal Child Psychology
submission.
Category for Disclosure Description of Interest/Arrangement
Author Name
Ken J. Rotenberg
Article Title
When Trust Fails: The Relation Between Children's Trust Beliefs in Peers and the Quality of their Peer Interactions in a Natural Setting
Author Signature
Ken J. Rotenberg
Date:
July 31, 2013
Abstract
One hundred and forty-nine 8–11 year-old children (86 males;
M
 = 9 years - 4 months and
SD
 = 7 months) from the UK were administered the Trust Beliefs in Peers scale and were observed in the playground over one school year. Quadratic relations were found between trust beliefs in peers and peer interaction, which varied by gender. Compared to girls with the middle range of trust beliefs, girls with very low beliefs and those with very high beliefs (a) were less accepted/more rejected by the peer group (i.e., lower group interaction, and greater negatively received bids), (b) showed greater indirect aggression (engaged in and received), (c) showed greater non-engagement (i.e., being alone), and (d) showed greater concomitant distress. Compared to children with the middle range of trust beliefs, children with those extreme trust beliefs in peers demonstrated greater direct aggression (engaged in and received) and showed passive behavior (for boys only). The findings supported the conclusion that children, primarily girls, who trust peers too little and those who trust too much are at risk for psychosocial maladjustment.