01-02-2008 | Original Paper | Uitgave 2/2008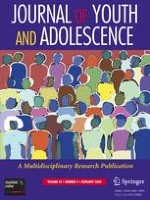 When does the Gender Difference in Rumination Begin? Gender and Age Differences in the Use of Rumination by Adolescents
Tijdschrift:
Auteurs:

Paul E. Jose, Isobel Brown
Belangrijke opmerkingen
Dr. Paul E. Jose has studied adolescent stress, coping, and adjustment for two decades and is particularly interested in gender differences in these constructs during early and middle adolescence. Dr. Jose is interested in adolescent development broadly conceived, and particularly with how teenagers negotiate the stress and coping process.
Ms. Isobel Brown's post-graduate research focused on adolescent rumination, and the current report includes findings from her master's research. She is now employed by government to evaluate policies to assist children and adolescents. Ms. Brown is interested in child and adolescent development and is specifically interested in what government can do to support and encourage optimal development in youth.
Abstract
A cross-sectional non-clinical sample of 1,218 adolescents, aged 10–17 years, completed measures of stress, rumination, and depression to allow tests of the response style theory of S. Nolen-Hoeksema [J Res Adolesc 4:519–534, 1994] in adolescents, in particular whether increasing levels of stress and rumination in early adolescence are predictive of the onset of the gender difference in depression. Overall, females reported higher levels of stress, rumination, and depression than males. The onset of the gender differences in stress and depression occurred at age 13 years, and for rumination one year earlier at 12 years. Significantly, also from 13 years, rumination explained the gender difference in depression by showing that it significantly mediated the effect of gender on depression. Gender moderated the rumination to depression relationship; specifically the association was stronger for females than males. Developmental differences were noted in that rumination significantly mediated between stress and depression earlier in the age range for females than males. Results supported many of the predictions of Nolen-Hoeksema's model of the emergence of a gender difference in adolescent depression.