04-05-2017 | Original Paper | Uitgave 8/2017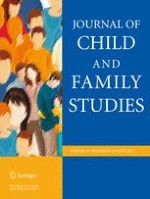 What Low-Income, Depressed Mothers Need From Mental Health Care: Overcoming Treatment Barriers From Their Perspective
Tijdschrift:
Auteurs:

Sonja E. DeCou, Hilary B. Vidair
Belangrijke opmerkingen
This research study is based on Dr. Sonja DeCou's dissertation research, conducted at Long Island University Post and mentored by Dr. Hilary Vid air.
Abstract
Maternal depression is a major public health concern, as children of depressed mothers have a substantially increased risk for psychiatric problems into adulthood. Low-income mothers have high rates of depression, yet few receive mental health care. Barriers have been identified, but solutions have been based on what mental health professionals believe is helpful rather than mothers' own perspectives, or require participation in an existing treatment. The purpose of our study was to learn what low-income, depressed mothers believe they need from mental health care to overcome barriers to mental health care. Twelve mothers with at least one child between the ages of 2 and 17 participated in individual interviews. Using qualitative grounded theory methodology, data were organized into six theoretical constructs. These included: (1) attitudes, expectations, and emotions impact the intention to enter treatment, (2) identifying as self-sufficient inhibits the intention to enter treatment, (3) providing knowledge, skills and environmental resources facilitate treatment entry, (4) habits and life circumstances that make treatment seem unimportant inhibit treatment entry, (5) balancing acceptance, change, and the therapeutic relationship facilitates treatment retention, and (6) sharing similarities with people involved in treatment often, but does not always facilitate treatment retention. A 3-step theory was developed regarding variables that influence mothers' (a) intentions to enter treatment, (b) treatment entry, and (c) treatment retention. Offering what low-income, depressed mothers believe they need could better engage and retain them in mental health treatment.