01-04-2015 | Rhythm Puzzle - Answer | Uitgave 4/2015 Open Access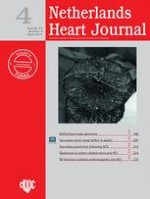 What is the origin of the ectopic beat?
Tijdschrift:
The premature depolarisation following the second QRS complex occurs late in the cardiac cycle (CL = 1000 ms) with a QRS duration of 120 ms followed by a complete compensatory pause (Fig. 1 in the Question article, doi: 10.1007/s12471-015-0655-z). The QRS complex is not preceded by a P wave, excluding an atrial ectopic origin. The amplitude of the R wave is large in leads V2–V4, suggesting an anterior axis deviation of the QRS complex in the precordial leads, which makes an AV nodal origin unlikely in the presence of a left anterior fascicular block during sinus rhythm. Since the QRS width is borderline at around 120 ms, a premature ventricular depolarisation cannot be excluded as origin of the ectopic focus. But what is the most likely explanation for this depolarisation? ...