01-01-2014 | Original Paper | Uitgave 1/2014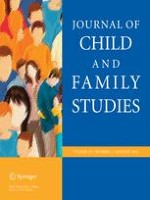 What Happens in Therapy? Adolescents' Expectations and Perceptions of Psychotherapy
Tijdschrift:
Auteurs:

Peter K. Stewart, Michael M. Steele, Michael C. Roberts
Abstract
A measure of adolescent pre-treatment expectations/perceptions of psychotherapy was developed, evaluated, and used to examine adolescent expectancies of psychotherapy. The development of the Psychotherapy Expectations and Perceptions Inventory (PEPI) is described and initial psychometric properties reported. Utilizing a sample of adolescents (
N
= 546), expectancies of psychotherapy were assessed using the PEPI. Results indicate adequate internal consistency and a 3 factor structure. Specifically, factors identified were labeled (1) measuring negative expectancies, (2) process/outcome expectancies, and (3) expectancies for a positive therapeutic relationship. Boys reported greater negative expectancies, but also greater expectancies for a positive therapeutic relationship. Girls reported greater therapy process/outcome expectancies. Prior contact with mental illness was not related to any studied factors. Clinicians may benefit from assessing adolescent expectancies to facilitate rapport and engagement in the therapy to foster more therapeutic change. Future research that examines the relationships between specific demographic characteristics (e.g., socioeconomic status, race/ethnicity, etc.) and service utilization variables among adolescents is warranted.