01-06-2006 | Uitgave 3/2006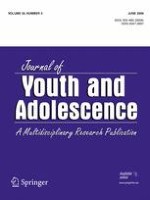 What Do They Want in Life?: The Life Goals of a Multi-Ethnic, Multi-Generational Sample of High School Seniors
Tijdschrift:
Auteurs:

Esther S. Chang, Chuansheng Chen, Ellen Greenberger, David Dooley, Jutta Heckhausen
Belangrijke opmerkingen
This study was supported by the School of Social Ecology and the Department of Psychology and Social Behavior at the University of California, Irvine; as well as the Max-Planck-Award for International Cooperation granted to Jutta Heckhausen and funded by the German Federal Ministry of Education and Research (BMBF). We are indebted to Susan Farruggia, Ph.D. and Laura Gil-Trejo for their valuable contribution to data collection and help in the day-to-day management of the overall project. We also acknowledge with appreciation the assistance of numerous undergraduate research assistants in data collection and data entry.
Developmental psychologist with current interests in the familial factors that affect motivation and disengagement with life goals in adolescence and young adulthood
Developmental psychologist with current interests in cross-cultural human development,and the neural bases of math and language learning.
Developmental psychologist with clinical training. Her current interests are in the cross-cultural study of familial and peer factors in adolescents' and young adults' psychological well-being
Clinical psychologist with research interests in the links between economic stress and behavioral disorder
Developmental psychologist with a current focus on developmental regulation during major life-course transitions, in particular the transition from school to work and to college
This study investigated ethnic as well as gender and generational similarities and differences in the life goals among graduating high-school seniors. Adolescents came from six ethnic groups: White, African, Mexican, Other Latino, Filipino, and East/Southeast Asian Americans. Their self-articulated medium-range life goals were grouped into 8 major categories such as occupational, educational, familial, and material goals. Group differences in various aspects of future plans, such as priorities given to different life goals, time frame of attainment, and perceived controllability over their attainment, were also examined. Hypothesized group differences based on current social realities and small-scale qualitative studies on ethnic minorities were not found; there were very few ethnic, gender, and generational differences in adolescents' life goals. All groups reported a higher priority for, earlier expected attainment of, and more control over their medium-range educational and occupational goals than their family-related and material goals. Further, long-term educational and occupational aspirations were high across all groups. There were moderate ethnic differences in educational expectations and none for corresponding career expectations. Thus, current inequalities in educational and occupational attainments across ethnic groups were only partially reflected in the life goals of adolescents on the brink of graduating from high school.