01-01-2010 | Onderzoek | Uitgave 1/2010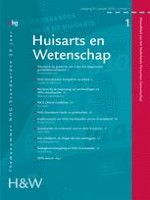 Welke barrières ervaren huisartsen bij de toepassing van aanbevelingen uit NHG-Standaarden?
Tijdschrift:
Auteurs:

M. Lugtenberg, J. M. van Zegers-Schaick, prof. dr. G. P. Westert, P. R. de Vries, A. J. Evertse, dr. J. S. Burgers
Belangrijke opmerkingen
Mogelijke belangenverstrengeling: dit project werd mede gefinancierd door Stichting KOEL.24
Dit artikel is een vertaling van: Lugtenberg M, Zegers-van Schaick JM, Westert GP, Burgers JS. Why don't physicians adhere to guideline recommendations in practice? An analysis of barriers among Dutch general practitioners.
Implementation Science
2009;4:54
. Publicatie gebeurt met toestemming van de uitgever.
promovendus
science practitioner
hoogleraar Kwaliteit van Zorg
huisarts en projectleider
huisarts en directeur
huisarts en senior onderzoeker
Samenvatting
Lugtenberg M, De Vries PR, Evertse AJ, Zegers-van Schaick JM, Westert GP, Burgers JS. Welke barrières ervaren huisartsen bij de toepassing van aanbevelingen uit NHG-Standaarden? Huisarts Wet 2009;53(1):13-9.
Inleiding
Ondanks de bekendheid en acceptatie van NHGStandaarden is het gebruik ervan door huisartsen niet optimaal. Om hier meer inzicht in te krijgen hebben we onderzocht welke barrières huisartsen ervaren bij de implementatie van aanbevelingen uit NHG-Standaarden in de praktijk.
Methoden
We organiseerden 6 focusgroepen waaraan 30 huisartsen deelnamen (gemiddeld 7 per focusgroep). Uit 12 NHGStandaarden hebben we 56 kernaanbevelingen afgeleid. In elke focusgroep werden de barrières bij de implementatie van de kernaanbevelingen van 2 NHG-Standaarden besproken. De focusgroepdiscussies werden opgenomen en getranscribeerd. Voor de analyse werd gebruikgemaakt van een bestaand model van barrières.
Resultaten
De barrières varieerden sterk binnen NHG-Standaarden en elke kernaanbeveling kende een eigen combinatie van barrières. Veelgenoemde barrières waren: 'oneens zijn met de aanbeveling door een gebrek aan toepasbaarheid of gebrek aan bewijs' (68% van de kernaanbevelingen), 'omgevingsfactoren zoals organisatorische belemmeringen' (52%), 'gebrek aan kennis met betrekking tot de kernaanbevelingen' (46%) en 'richtlijnfactoren zoals onduidelijke of vaag geformuleerde aanbevelingen' (43%).
Beschouwing
Ons onderzoek laat een breed scala barrières zien dat de implementatie van kernaanbevelingen in de praktijk bemoeilijkt. Om het gebruik van NHG-Standaarden in de praktijk te bevorderen zijn specifieke implementatiestrategieën nodig, gericht op het patroon van barrières van de individuele kernaanbevelingen. Daarnaast zouden NHG-Standaarden transparanter moeten zijn voor wat betreft het onderliggende bewijs en de toepasbaarheid van aanbevelingen en vraagt comorbiditeit in richtlijnen extra aandacht. Ten slotte kunnen focusgroepen worden beschouwd als een innovatief medium voor richtlijnonderwijs en implementatie.