01-07-2015 | Artikelen | Uitgave 2/2015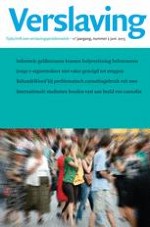 Wel of geen hulp zoeken voor cannabisafhankelijkheid?
Tijdschrift:
Auteurs:

Peggy van der Pol, Nienke Liebregts, Ron de Graaf, Dirk J. Korf, Wim van den Brink, Margriet van Laar
Samenvatting
De meeste mensen met cannabisafhankelijkheid zoeken geen hulp. Een 'behandelkloof' ontstaat als niet-hulpzoekers niet spontaan herstellen en ernstige klinische kenmerken hebben. Het is onbekend in hoeverre hier sprake van is. Ook is er nauwelijks iets bekend over de redenen om al dan niet hulp te zoeken. In dit onderzoek werden 70 cannabisafhankelijke patiënten in de verslavingszorg vergeleken met 241 cannabisafhankelijke gebruikers uit de algemene bevolking die geen hulp hadden gezocht. Redenen om al dan niet hulp te zoeken werden vastgesteld bij alle 70 patiënten en bij 160 van de 241 cannabisafhankelijke gebruikers die zeiden in geval van cannabisproblemen geen hulp te zullen zoeken. Vergeleken met niet-hulpzoekers rapporteerden patiënten meer afhankelijkheidscriteria, meer cannabisgebruik, meer psychische problemen en meer beperkingen in het functioneren als gevolg van lichamelijke en/of psychische problemen. Patiënten ervoeren vaker dan niet-hulpzoekers een tekort aan sociale steun, ondanks dat zij vaker steun van vrienden of familie kregen, die ook vaker aandrongen om hulp te zoeken. Geestelijke gezondheidsproblemen en hinder in het functioneren waren de meestgenoemde redenen om hulp te zoeken. De belangrijkste motieven om geen hulp te zoeken waren: zelf willen stoppen, liever stoppen met hulp van familie of vrienden en behandeling voor cannabisproblematiek niet nodig vinden. Al met al lijkt de 'behandelkloof' mee te vallen, want vergeleken met patiënten in de verslavingszorg hebben niet-hulpzoekers met cannabisafhankelijkheid minder ernstige klinische kenmerken en vinden ze hulp vaak onnodig. Behandeling lijkt vaak onnodig voor niet-hulpzoekers, hoewel sommigen baat zouden kunnen hebben bij laagdrempelige interventies die rekening houden met de behoefte zelf te stoppen en met ondersteuning door familie of vrienden. Dergelijke interventies zouden daarnaast doorverwijzing van degenen met ernstige problemen kunnen faciliteren.